ENGLEWOOD, Colo. --Continuing an annual pre-camp tradition, Head Coach Gary Kubiak, Executive Vice President/General Manager John Elway, President/CEO Joe Ellis answered media questions Wednesday afternoon along with some key players -- specifically wide receiver Demaryius Thomas and outside linebacker Von Miller.
Here's seven things we learned from the question-and-answer sessions: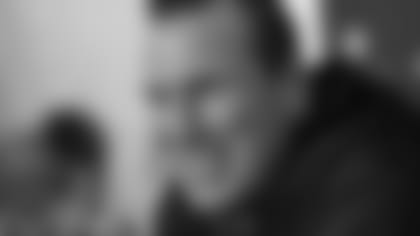 1. "EQUAL REPS" FOR THE QUARTERBACKS.
As he did throughout the offseason, Kubiak maintains that Mark Sanchez, Trevor Siemian and Paxton Lynch will be engaged in an "open competition."
"We've laid out our plan of how we're going to rep them and those type of things so we're getting an equal look at all of them," Kubiak said.
Kubiak said that when practice begins Thursday, Sanchez will line up first, followed by Trevor Siemian and rookie Paxton Lynch, but that is only for Thursday.
"That will change on a day-to-day basis," Kubiak said. "But we just want to give them all an equal opportunity."
That doesn't mean all of them will see the same number of repetitions with the first team at the outset. Kubiak expects Sanchez and Siemian to see more work with the No. 1 offense than Lynch.
"But I would also say this: We came out of the offseason with Paxton probably getting twice the amount of reps as our two other quarterbacks got, and when it's all said and done, we believe in developing young players, and it will probably play out the same way," Kubiak said.
NO TIMELINE ON A DECISION AT QUARTERBACK.**
Kubiak did not want to box himself into a specific time to make a decision on the Week 1 starting quarterback.
"I think they're going to tell me -- by how they perform, how they handle the football team," Kubiak said. "But I'm excited to watch all of them."
One reason he doesn't want to set a deadline for determining the quarterback -- beyond Sept. 8, the date of the regular-season opener against Carolina -- is because he said he's seen competitions where one quarterback established himself as the clear leader, but also others where it took some time for a starter to emerge.
Kubiak's criteria for determining the winner of the QB derby are relatively simple on the surface.
"It's who does the best job with the team," Kubiak said. "Obviously we've got a system that you've got to go run, to get the ball in the right hands. We've got a lot of playmakers on this football team; we've got to get the ball in their hands the right way. You've also got to protect the football for this team.
"I think there are a lot of things involved. We've got two good young quarterbacks on our roster and we've got another quarterback who's had success in this league. Let's let them go to work. I'm interested to see how they come back."
A protracted competition doesn't bother wide receiver Demaryius Thomas, who said that there was little adjustment needed from one quarterback to the others because they throw the football in similar ways.
AQIB TALIB AND DEMARCUS WARE AREN'T READY YET.**
As Talib continues his recovery from a gunshot wound, he will begin training camp on the non-football injury list, which means he will still count toward the 90-man roster and be activated whenever he is ready. No detailed timeline on his return has been set.
Outside linebacker DeMarcus Ware will also start camp on the NFI list.
"He's day-to-day," Elway said. "We'll continue to monitor what he's doing, but DeMarcus is somebody that was going to be very managed throughout the preseason, anyway."
With Ware sitting out, Shaquil Barrett and Shane Ray should continue to see first-team repetitions, as they did during OTAs with Ware injured and Miller not at practice.
VON MILLER WILL RETURN ON A "PROGRESSION" SCHEDULE.**
Kubiak said that the Super Bowl 50 MVP is a "progression" player, which means he will see some on-field work during practice, but then will also spend time during the session working with Strength and Conditioning Coach Luke Richesson until he is fully up to speed.
"We'll build him up to get him to where he's at," Kubiak said. "Obviously, I think he's worked, but it hasn't been with us, so we have to take a look at that as we go."
Thomas was eased back into full work in a similar manner last year after missing all of the offseason because of his unsigned franchise tender.
Left tackle Russell Okung will also be brought back on the "progression" timeline. He was limited to individual work during OTAs as he completed recovery from a shoulder surgery for which he had surgery before he signed with the Broncos on March 17.
NEGOTIATIONS ARE CONTINUING WITH EMMANUEL SANDERS.**
Throughout the offseason, Elway pointed to an extension for Sanders as one of his top three priorities, along with contracts for Brandon Marshall and Miller. With them taken care of, the focus is on Sanders, who enters the final year of his three-year deal this season.
"We're still working with Emmanuel and his people, but we'd like to get something done," Elway said. "But we'll have to see what happens."
Sanders said at his football camp July 12 that he hoped to work out an extension with the Broncos "in the next 30 days," reiterating his desire to remain with the team.
"I think he deserves it. I hope he gets it done," Thomas said.
6. VETERANS STAYING AT HOME.
For the first time since the Mike Shanahan era, veteran players will be able to go home each night -- at least, as long as they are on time for every meeting or other camp obligation.
"We talked about it in the offseason," Kubiak said. "We've got a lot of guys that live closer to this building than the hotel is. I want them to get rest and do their job. Obviously there are some consequences if they don't do their jobs.
"But we'll treat them like men ... We'll give them an opportunity to sleep in their beds and do their jobs."
THE STADIUM NAME WILL REMAIN UNCHANGED FOR NOW, BUT THE SEARCH FOR A NEW NAMING-RIGHTS PARTNER IS ON.**
With Sports Authority in bankruptcy and liquidating its assets, questions about the future name of the stadium remain rampant. But Ellis said that the Broncos' home venue will remain Sports Authority Field at Mile High until a new partner can be found to assume the rights.
"Right now, there's still some things proceeding in the bankruptcy court with the [Metropolitan Football Stadium District, which owns the right to the actual name. We have a partnership with them on naming rights. We're helping them. We're trying to find a new partner for it," Ellis said.
The arrangement with Sports Authority, which was signed in 2011, helped spur renovations to the stadium, including redesigned concourses on the 100 level, new video boards, ribbon boards that extend around the facade of the 300 level, high-definition televisions throughout the stadium and other improvements.
The money from naming rights is essential to ensuring the stadium keeps up with the times -- and also remains functional. Ellis said the team has had some analysis and projections that reveal a potential cost of $300 million for upgrades and maintenance in the next 30 years.
"What we don't want to happen is to let it slide and not attack solutions and all of a sudden be stuck with a burden of what we were 18, 19 years ago of having to build a new stadium," Ellis said. "I really think that this is a maintenance and improvement issue, and these funds from naming rights go a long way.
"They don't solve it all. We'll pitch in. There's going to be other ways to create revenue. But it's something that needs to happen, because I look at what the new stadium in Los Angeles costs, as well as some of the others that have come on-line, and we built our stadium together with the District for $467 million, and I think L.A. -- which is a full complex -- the stadium and the complex are going to cost north of $2.5 billion."
Several of the Broncos showed up to the UCHealth Training Center in style as they reported for training camp. (Photos by Aric DiLalla)