ENGLEWOOD, Colo. --For the first time since Super Bowl 50, the helmets can go on, and the offense can go against a defense.
Contact will be limited, and the first priority -- even above teaching -- is to avoid injuries. Even with every precaution taken, that is not always something a team can avoid, as the Broncos saw last year when they lost Ryan Clady to a torn ACL.
But the OTAs over the next four weeks will nevertheless be crucial in offering the coaches a first look at where their team stands.
Let's take a look at seven storylines to watch over the next four weeks.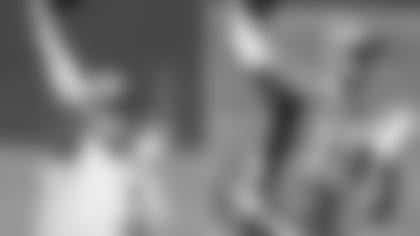 1. REPETITIONS FOR THE YOUNG QUARTERBACKS.
With Mark Sanchez expected to miss the start of OTAs following surgery on his non-throwing thumb, the Broncos are likely get an early glimpse of whether Paxton Lynch or Trevor Siemian can run the first-team offense.
Siemian has a year of experience in the system; his first task will be to show what he has learned, from command to the offense to better footwork, which was a point of emphasis last year intended to improve his accuracy.
Lynch is starting fresh, and if he goes against the first-team defense, will face a daunting challenge, as Bradley Roby noted last week. Progress will likely be incremental. But the coaches expect him to be a quick study.
"[There is] a lot more verbiage in what we're doing, but I also think it's giving him a lot more information to work with," Head Coach Gary Kubiak said during rookie minicamp on May 6. "It's different, but it's different for a lot of guys. Just watching him [at rookie minicamp], I think he'll catch up pretty quick."
When Sanchez returns, he will need plenty of work, as well; seven seasons of experience doesn't mean he can't use the repetitions to build up the timing he needs with his receiving targets. Every snap for all three quarterbacks will be scrutinized.
2. OFFENSIVE LINE IN FLUX.
With Russell Okung still recovering from shoulder surgery and Ty Sambrailo finishing his recovery from a torn labrum, the offensive line will not have its projected eventual form.
It will be interesting to see what the Broncos do at left tackle as Okung continues his rehabilitation work. Donald Stephenson could see some repetitions there. Michael Schofield could also work there, or he could line up on the right side if Stephenson works on the left. There are also two other returning practice-squad tackles -- Kyle Roberts and Cameron Jefferson -- who could factor into the mix.
If Sambrailo is limited at guard, the Broncos' options include Robert Myers and Sam Brenner, both of whom were on the 53-man roster last year. Rookie Connor McGovern projects as a guard, but started at left tackle at Missouri last year. He currently projects as a swing guard, and might be a factor at tackle if the Broncos want to find out the extent of his versatility.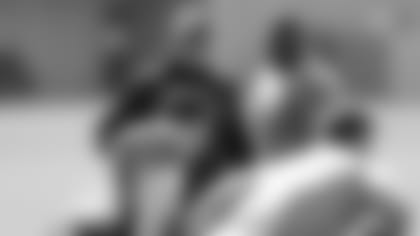 3. JOCKEYING FOR POSITION AT DEFENSIVE END.
Second-round pick Adam Gotsis will be limited to mental repetitions, so the primary competition for playing time along with Derek Wolfe will involve holdovers Kenny Anunike and Vance Walker and free-agent pickup Jared Crick. Crick provides familiarity with the scheme from his time in Houston under Kubiak, Wade Phillips and Bill Kollar, while Walker had some brilliant flashes and filled in well last year during Wolfe's four-game PED suspension.
Anunike is the wild card. His pass-rushing ability that he showed as a 4-3 end remained intact when he bulked up and worked as a 5-technique end last summer. He had an impressive performance in the preseason opener at Seattle, and he has shown glimpses of being an effective 3-4 end in pass-rush situations. But injuries have ended his first two NFL seasons, and he needs to prove that he can stay healthy to have a role.
4. WHO LINES UP NEXT TO BRANDON MARSHALL AT INSIDE LINEBACKER?
Todd Davis has the most starting experience and snaps with the Broncos among the possibilities to replace Danny Trevathan, but Corey Nelson, Zaire Anderson and the recently signed Dekoda Watson will also be in the mix in what appears to be the most wide-open competition for a starting role on the roster.
Anderson is the only one with no regular-season experience, but his stellar work in the 2015 preseason, growth on the practice squad and outstanding instincts make him a viable contender along with the others.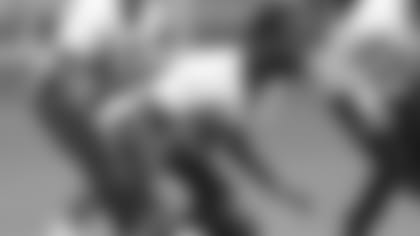 "Zaire has come a long way," Kubiak said during rookie minicamp. "He's out here operating out here like a veteran."
5. SORTING OUT THE RESERVES AT SAFETY.
To replace David Bruton Jr. and Omar Bolden, the Broncos initially signed two veterans, Brandian Ross and Shiloh Keo, who closed out the 2016 season on the Broncos' roster. But fewer than two weeks later, the team drafted Justin Simmons in the third round and Will Parks in the sixth.
Simmons and Parks have an advantage in developing together; they can hone the communication and safety that is a necessity for safety pairs. The two are roommates, and both spoke of how their joint growth can help each other. The extent of their progress over the next four weeks could help determine whether the Broncos opt for experience behind starters T.J. Ward and Darian Stewart, or whether they go with the younger options.
6. PREVIOUSLY UNHERALDED PLAYERS WILL EMERGE.
In previous OTAs, there are often players who break out of the pack and shows the potential to be an immediate contributor. Last year, Bennie Fowler earned notice with some impressive receptions, particularly in traffic, and Jordan Taylor got open deep for some big plays and caught Peyton Manning's eye. Two years ago, Kenny Anunike began earning his shot by showing speed and a quick twitch off the edge in pass-rush situations. In 2012, Danny Trevathan's OTA work offered assurance that the Broncos would cope with D.J. Williams' suspension just fine.
The no-pad, limited-contact nature of OTAs restricts the extent of what some players can show, particularly up front. But the work will provide opportunities -- and you can expect to read and hear plenty about those who seize them in the upcoming weeks.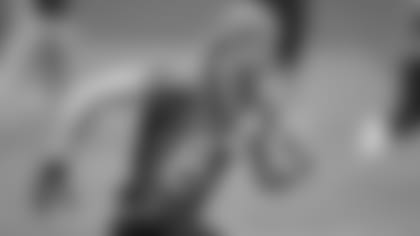 7. MAKING THE SECOND-YEAR LEAP.
Opportunities were limited for some Broncos rookies last year, including cornerbacks Lorenzo Doss and Taurean Nixon, wide receiver Jordan Taylor, linebacker Zaire Anderson, quarterback Trevor Siemian, center James Ferentz and others.
If they are to earn more shots in training camp and the preseason, they must show year-to-year progress in their technique and absorption of the system. These four weeks offer them their best chance to lay the groundwork for an expanded role in 2016.