ENGLEWOOD, Colo. --Executive Vice President/General Manager John Elway was happy to get C.J. Anderson back on a four-year deal, but that wasn't the only topic as he answered questions from media on a conference call Tuesday afternoon.
1. No regrets over not giving Anderson a higher tender.
The decision to give Anderson a right-of-first-refusal restricted-free-agent tender was not enough to deter interest from multiple teams, particularly the Dolphins and Bears, whose head coaches have plenty of familiarity with Anderson from their time in Denver.
But Elway had no misgivings about the low tender.
"No," Elway said. "We found out what his market value was, and obviously he'd been with [Adam] Gase here, and Gase had an interest in him down on Miami, as well as Chicago showed interest.
"But, now, I think that overall, when we look at the package, we think it's a very fair package for what he's going to do."
A second-round tender would have likely prevented teams from pursuing him -- but would have put him back on the market next year.
"We're glad we got him tied up for four years," Elway said.
2. Brock Osweiler's departure helped create room for Anderson's deal.
Elway acknowledged that Osweiler's decision to take the $37 million guaranteed from the Houston Texans and decline a four-year deal that included $30 million guaranteed helped make it possible for the Broncos to retain Anderson, because it "did free up a little more cash."
"[That] made this decision pretty easy," Elway said.
Elway wasn't losing any sleep over Osweiler's decision last week.
"Ultimately it came down to what Brock wanted to do, and he made that decision, what he thought was best for him, which was Houston," Elway said. "We'll respect that, and we'll move on."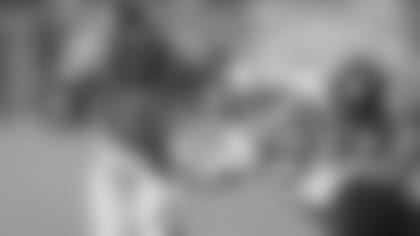 3. "For unto whomsoever much is given, of him shall much be required"
A Biblical verse encapsulates the increased demands that will be placed on Anderson's shoulders now that he has a four-year contract that could be worth up to $18 million if he plays it out at his current terms.
"The expectations always go up, and that's what I told C.J.: 'You know what? The expectations of you as a leader, somebody that's a part of this organization -- all those expectations go up,'" Elway said.
"With the rise in pay also goes the rise of expectations, and I think C.J. understands that and he's ready to handle that."
4. Playoff performance had an impact on the decision.
Between the playoffs and his late-season surges the last two years, Anderson has earned a reputation as a running back who does his best work when the stakes are highest, evidenced by his league-leading 17 touchdowns from Week 8 through the playoffs of the last two seasons.
That tendency helped spur Elway to match Miami's offer.
A need for continuity in the wake of so many departures also made a difference, Elway said.
"We know what kind of guy he is, what kind of player he is," Elway said. "He's a guy that we like to have in the locker room and he's a guy that is going to accept the elevation in responsibilities."
Mark Sanchez: "The first step in the process."**
As Elway tweeted last Friday, the former Eagles and Jets quarterback is only the start of rebuilding the quarterback complement in the wake of Osweiler's departure and Peyton Manning's retirement last week.
"We're excited about having Mark," Elway said. "His track record, and what he's done, I think that he's very capable."
6. Malik Jackson's contract "didn't match our budget."
The Broncos wanted Malik Jackson back, but given other commitments, the price tag he ultimately received from the Jaguars was too high and prevented his return.
"You hate to lose a player like Malik, but obviously we're happy for him and the contract that he got," Elway said. "He did a tremendous job for us the last four years and he played hard, so obviously it didn't match our budget of what we thought we could afford, but we're happy for Malik, and he played a lot of good football for us."
7. Elway wanted David Bruton Jr. back.
Elway said that the Broncos "are working with David's people," but that the eighth-year safety has other opportunities.
"He's a guy that we'd like to have back," Elway said. "David's got some different opportunities out there. We've been in constant contact with his people, and we'd love to have David back, and hopefully it works out."
But within an hour of that statement, Bruton signed a three-year contract with Washington worth a reported $9 million, giving him the starting opportunity that would have been difficult to find in Denver given the presence of T.J. Ward and Darian Stewart.