ENGLEWOOD, Colo. --No position group on the Denver Broncos' roster will be under more scrutiny this summer than the offensive line. No group needs the repetitions of training camp more in order to create the necessary cohesion.
And that's why the offensive line was at Dove Valley throughout the last few weeks.
"Summer vacation -- it wasn't really a vacation for me," said rookie tackle Ty Sambrailo on Monday as the team's rookies officially reported to training camp.
Although the work cannot be organized by the team or supervised by coaches, players are welcome to organize their own work whenever they see fit. Sambrailo said a group of offensive linemen that included himself, left guard Ben Garland, center Gino Gradkowski, right guard Louis Vasquez and right tackle Ryan Harris were among the regulars at the team facility.
"There's been a lot of offensive linemen here with me, guys working together," Sambrailo said.
The collective development of the unit will be a focal point of training camp. At least three starters up front will be players who did not start for the Broncos last year, and the first-team group at the start of training camp will include two players who have never started in the NFL: Sambrailo and Garland.
But the spotlight will be on Sambrailo as he gets accustomed to his role at left tackle, where he will protect Peyton Manning's blind side.
Sambrailo's task is clear in wording but complex in execution: keep Manning upright against a series of elite pass rushers that begins with Elvis Dumervil and Justin Houston in a 100-hour span of September. It's possible that the Broncos' entire season could ride on Sambrailo's development.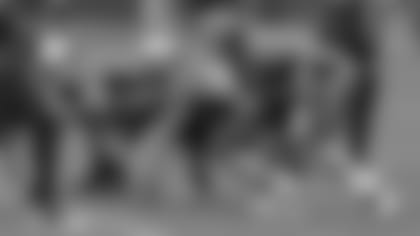 "I don't think I can look ahead right now and say, 'This is going to be the best season anyone's ever seen,' or anything like that," Sambrailo said. "I'm just going to take it one step at a time, and I'm always going to try to be the greatest I can be."
Sambrailo's transition is helped by the similarities between the Broncos' zone-blocking based scheme and the one used at Colorado State in recent years. This is the one scheme at which he would be best prepared to become the immediate, effective starter the Broncos need him to be.
"It's a lot of the same scheme; it's just different verbiage," Sambrailo said. "It's been an easy, quick transition ... it's just making sure that when I hear something, I think of it in Denver Broncos terms instead of CSU Rams terms."
There is also the adjustment to Manning.
"He's been good. He's a good guy to talk to. You obviously don't want to upset him at all," Sambrailo said. "You just try to do everything right all the time."
Manning's perfectionism and attention to detail are well-documented. But Sambrailo said the quarterback has not yelled at him so far.
"He's been good at kind of helping me, asking me on protections what I was doing and what I was looking at," Sambrailo said.