DENVER— It's not every day that a kid gets to play a video game that they designed on the scoreboard at Mile High.
It's also not every day that kids get to play against one of the best offensive linemen in the NFL.
Offseason pickup, and self-proclaimed agent, Russell Okung surprised winners of the Kodu STEM Bowl on Thursday at Sports Authority Field at Mile High to celebrate their accomplishments.
"They've got some really good talent," Okung said as he took a break from the game. "They've got a good eye just for how these things work. I'm so fortunate to come here and play with them."
The Broncos Tackle STEM initiative partners with organizations like Colorado State University's Little Shop of Physics, Learn Fresh, RAFT Colorado and Ten80 Education to create positive learning experiences that encourage young students to become more interested in STEM subjects through hands-on activities.
This specific Tackle STEM project allowed kids at local Boys and Girls clubs to create and design their own video games that specifically related to the Broncos. The top two entrants won an experience of a lifetime, playing the game they created on the ThunderVision stadium scoreboard at Sports Authority Field at Mile High.
The first-place game reflected the process of becoming a Bronco player with different "stages" or levels that the player had to pass in order to progress. The creators even included a math portion with multiplication problems that the player had to answer correctly in order to move forward.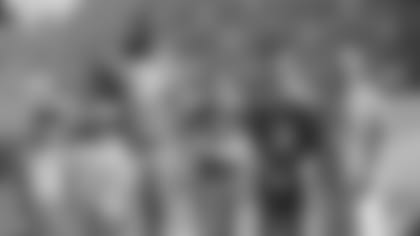 "We created an awesome game," said Michelle Vasquez, one of the creators of the winning game. Now, we get to celebrate our accomplishments for winning first place." 
Playing their games on the big screen was certainly a worthwhile experience for the kids, but the surprise appearance from Okung made this more than just a celebration; it was a chance to learn from one of the NFL's top players at his position.
"We got to see that [NFL players] do take their work seriously but they can also be really fun with us and not just care about sports but other stuff that is valuable to us like technology or STEM," said Vasquez.
For Okung, the experience wasn't just another appearance either, but rather an opportunity to inspire the next generation to pursue passions in STEM, a goal that's close to home for the Broncos offensive lineman.
"For them to design these games, congratulations to them," said Okung. "I think the world is in their hands. They can do anything they want to do."