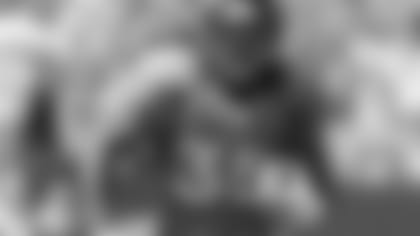 ENGLEWOOD, Colo. --While Peyton Manning's two touchdown passes soaked up most of the attention from Sunday's preseason game against San Francisco, a lot can be taken away from the Broncos running game, as well.
Knowshon Moreno saw his most extensive action of the preseason as he continues working back from last year's ACL injury.
Moreno ran the ball five times for 16 yards in addition to two catches for 28 yards. His highlight of the day was an 18-yard catch-and-run from the backfield, showing speed to get to the edge and power in gaining additional yards after contact.
"I think Knowshon has made steady progress in each one of his games," Head Coach John Fox said Monday. "Coming back from an ACL (injury), especially as a running back, but actually at any position, it takes a little bit of time to get back in the groove of things. I think he's done a super job."
Rookie Ronnie Hillman made his NFL debut on Sunday after missing the first two games with a hamstring injury. Hillman had a team-high 10 carries for 29 yards and also caught a pass that gained 4.
Hillman was happy to finally suit up in a game situation, and looks to continue building on Sunday's experience on Thursday against the Arizona Cardinals.
"I did okay," Hillman said after the game. "I think I could've done better, but that's what practice is for. Get the jitterbugs out, and now it's time to move forward."
Fox, too, saw room for improvement in the rookie's performance.
"I think (he looked) good," Fox said. "Like everybody, (there was) some good and some bad, but I thought overall he did a good job. He found a couple creases there, and he does have good explosion and athleticism. So all in all, I thought he did pretty good."
Drafted in the third round of the 2012 NFL draft, Hillman's most dangerous quality is his speed. Still recovering from the injury, the former San Diego Sate Aztec knows Broncos Country hasn't seen nearly all of what he has to offer.
"There are a couple more (gears) in there," Hillman said. "Once that comes to me, it's going to be a lot faster and a lot more explosive."
Lance Ball was another running back who turned in a notable performance on Sunday. Before Ball left the game with what Fox called a "rib bruise," he and quarterback Peyton Manning connected for the team's biggest gain of the afternoon – a 38-yard completion that got Denver deep into San Francisco territory before Manning tossed his first touchdown pass as a Bronco.
"The play to Lance was a nice route by him," Manning said. "He has shown the ability to run routes like a receiver out of the backfield, (and) that's another weapon hopefully we can take advantage of this year to get the linebackers (and) safeties out on him."
With the action that Denver's running backs saw on Sunday – they touched it a total of 32 times – the coaches were able to learn more about what they're working with as the regular season draws closer. Facing the league's best run defense in 2011, they liked what they saw.
"I think (offensive coordinator) Coach (Mike) McCoy emphasized the running game," Manning said. "He challenged the guys to run the ball. I thought we did that against a good defensive front."
---