ENGLEWOOD, Colo. --While the offensive tackles remain in flux one day into the new league year, Ronald Leary's arrival at the UCHealth Training Center on Friday brought the projected interior line trio for the 2017 season together for the first time.
As Leary made his rounds as Broncos headquarters, he met with guard Max Garcia and center Matt Paradis, both of whom are offseason staples at the facility. Paradis is on hand as he continues his rehabilitation from the two hip surgeries he underwent early in the offseason.
"They're great guys," Leary said. "I already knew something about them just from watching them on film and just talking to other guys around the league, so I knew they were good guys.
"Just talking to them, they want to win. They want to be great. So you can't do [anything] but respect that. They're excited for me to be [here]; I'm more excited to be here with them, so I'm looking forward to it."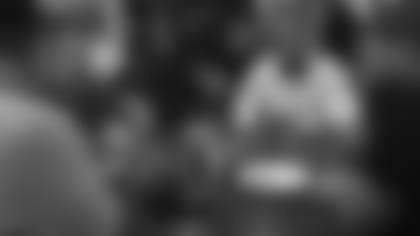 Leary did not specify where he expected to play, nearly all of his NFL snaps have come at left guard. That would necessitate Garcia moving to right guard, although Leary said he would be willing to flip sides if asked.
But at either side, Leary is looking forward to his partnership with Paradis.
"He's definitely one of the best centers in the league," Leary said.
Leary said that he "didn't talk too much" about the scheme with Offensive Line Coach Jeff Davidson, adding that their meeting was more about making Leary comfortable on his new team.
"Just letting everybody know that they wanted me here and that it was going to be a good fit for me-- and I believe it will be," Leary said.
Dallas' scheme doesn't mesh perfectly with the one Denver is installing, but Leary said the Cowboys worked on a variety of concepts in addition to the zone elements they used last year, which will fit well as the Broncos transition to a hybrid philosophy that employs elements from zone and power schemes.
"I definitely feel I can play in any scheme," Leary said. "In Dallas, we were a heavy zone-blocking team, but we ran some power [and] a lot of man stuff too. We probably practiced it more than we ran it. But I definitely feel comfortable in any scheme, so that won't be a problem."
And while Leary is in the spotlight as the Broncos' first free-agent addition of 2017, he's only part of the potential solution up front -- and he knows it.
"It's not going to be about me. It's going to be more as a unit," Leary said. "If we can come strong together as a unit, then as an O-line we can help lead the offense -- not just particularly one person."
Further, Leary added that the line's ability to come together and succeed is not predicated on which quarterback wins the expected competition between Trevor Siemian and Paxton Lynch.
"I don't think it affects us too much at all," Leary said. "I think we need just to focus on our job: our blocks, our schemes and getting to know each other better, because there are going to be some new faces, and just work on being better.
"If we work on our assignments up front, those two quarterbacks, they're going to do their thing. So whichever one's under center, as long as we're doing our job, they'll feel confident."
The Broncos agreed to terms Thursday on a four-year deal with guard Ronald Leary as they look to improve the offensive line. (Associated Press)