ENGLEWOOD, Colo. --There are only four common threads from the Broncos' locker room that link the careers of Simon Fletcher, Jason Elam and John Lynch.
Rod Smith, Tom Nalen, Dwayne Carswell and Keith Burns are the only four men who were teammates of each member of the 2016 class of the Denver Broncos Ring of Fame.
"All three of these guys, I played with them, learned something from each of them and know the professionalism and how much they loved and endeared the Broncos," Smith said.
Smith knew Elam and Fletcher first. Elam arrived a year before Smith, as a third-round pick in 1993. Fletcher was headed into his 10th season when Smith arrived as an undrafted signee who spent the 1994 season on the practice squad.
Although Fletcher had a quiet public persona, within the locker room, he was a leader -- and in the offseason early in Smith's career, Fletcher reached out to the young receiver as he toiled in an attempt to make the roster.
"Here I am, a young guy trying to make the football team. I'm doing everything I can," Smith recalled. "And I remember a lot of guys that I came into the league with, during the summer they would leave, go back to their alma maters and work out -- that kind of stuff. And he was there working out and I'm there grinding every day.
"He said, 'So, man, you're going to make it.' I said, 'I'm trying everything I can.'"
That wasn't what Fletcher wanted to hear.
"And Simon pulled me aside and said, 'No, you never try. Speak that you're going to make it. Say that you're going to be on this football team.'
"And I never forgot that. I still use that information to this day."
Smith made the roster in 1995, grabbed his first career regular-season reception on a last-play, 43-yard touchdown catch in Week 3 against Washington, and was on his way.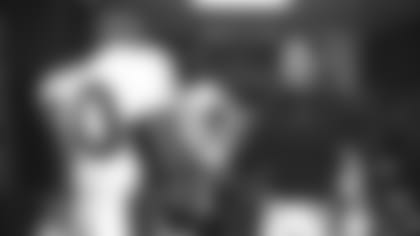 His long career would last until he announced his retirement in 2008. That meant he saw all of Elam's exploits -- his 63-yard kick in 1998 against Jacksonville, his string of 100-point seasons that wasn't broken until after he departed for Atlanta, and his four game-winning walk-off field goals in 2007, including the famous "Toro! Toro!" fire-drill kick at the end of a Week 1 win at Buffalo.
Smith sees Elam as a potential Pro Football Hall of Famer, not just a Ring of Famer.
"We knew that when we lined up for an extra point or field goal, Jason was money," Smith said. "As an offense, and with the team that we had at the time, even though we were high-powered on offense, there were times when Jason Elam was the featured guy on the planet."
One of Elam's biggest kicks was a game-winner at overtime in Buffalo in 1997 that followed a late-October snowstorm in Denver that nearly prevented the Broncos from leaving Colorado in time for the game.
"We're getting to the bus on tractors and snowmobiles," Smith said. "We get to Buffalo at like three in the morning; we have the early game at 11 (a.m. Mountain time), and I remember at the end of the game, I end up catching a slant for around 14, 15 yards and it put us in field-goal range."
Elam hit the 33-yard attempt, and the fatigued Broncos escaped, 23-20. Trudging back to Denver in a state of mental and physical exhaustion would have been excruciating; Elam's kick made the journey home sweet.
"It was the best bus ride ever. It was the most exhausted trip ever," Smith said.
"One thing we could count on was J.E. coming through in the clutch. I remember being there for his 63-yarder, and all that stuff that this guy did for us was amazing."
Lynch's impact was different -- and was first felt by Smith as an opposing wide receiver. He and the Broncos faced Lynch in 1996 and 1999 in two tight games with the Buccaneers, split by the clubs.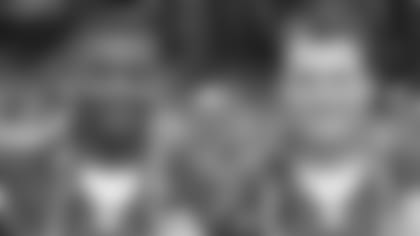 "You knew where John Lynch was. That's what made John special," Smith said. "He made you game plan for him. You see John at free safety one play, and the next thing you know, you see him at linebacker. Next thing you know, you see him at defensive end. He was just one of those special people," Smith added. "When it comes to offense and flow, John Lynch was disruptive."
Smith found that out even more when Lynch joined the Broncos in 2004 and enjoyed the kind of late-career second act few great players ever experience.
"He's killing everybody, man," Smith said. "He hit Al Wilson so hard. He's killing anybody moving toward that ball, John was taking him out.
"I said, 'I couldn't play with Lynch on defense, because he would hit you more than the offense would.' That's just the way he was, the way he does things."
That way was all-out, with nothing held back and total commitment to his teammates and the cause of winning.
"I only got to play with him for a short period of time, but you played with John forever, because John would embrace you, John would love on you, John would care about you," Smith said. "John did whatever it took as a teammate to make sure that you were better, and that's the type of guy that I loved [to see] getting that moment at the end of my career."
The final four of Lynch's 15 seasons were in Denver, and he quickly transitioned into a television career that continues to this day. The 2016 season will be his 24th either playing or analyzing the NFL.
"I would tell guys, 'If you want to learn how to last in this industry, watch that guy,'" Smith said.