ENGLEWOOD, Colo. — The week Tyler Hilinski took his own life, River Cracraft was back in Pullman, Washington.
Cracraft graduated from Washington State in 2017 and — after spending the ensuing season on the Broncos' practice squad — he visited his alma mater in January 2018.
While there, Cracraft saw Hilinski, a friend and former teammate of two seasons who was then rooming with Cracraft's old roommates.
Hilinski died by suicide that same week.
As the news rocked Washington State and the larger college football community, Cracraft also felt the impact of losing a friend.
"I was with him the week that he did it, so that was tough," Cracraft said Wednesday. "[It was] more tough on my roommates, who were actually his roommates at the time. I was visiting, but it's tough.
"It's not easy for anyone. No can expect it, especially a guy like that. I know all of you didn't know him, but just a kind soul, a gentle person, always got a smile on his face, just one of those people. It hurts. It's something you think about a lot, and when you think about it, you just try to think positive, because that's the type of guy he was."
In the months since Hilinski's death, his parents, Kym and Mark, have founded Hilinski's Hope.
The organization, according to its website, aims to "[keep] Tyler's memory alive and [generate] the funding necessary to support programs that will help destigmatize mental illness."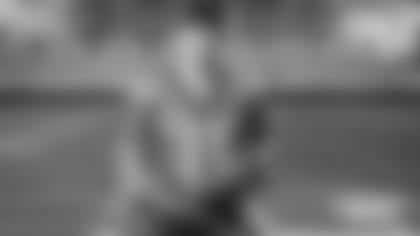 Over the next three weeks, Cracraft will do his part in helping his late friend and his parents.
As the Broncos get set to wear personalized cleats for the NFL's My Cause My Cleats campaign, Cracraft will sport a pair of red-and-blue cleats that honor Hilinski's Hope.
With Kym Hilinski's blessing, Cracraft expects to wear the cleats in Weeks 13, 14 and 15.
Other players will eventually auction off their cleats to raise money for their causes, but after Cracraft finishes the Week 15 game against the Browns, he plans to give the cleats to the Hilinski family.
"I told her she could do whatever she wants with them," Cracraft said. "They're aware. They wanted me to do it. I think they're happy that, again, we have this opportunity and I chose to do this, because it's important."
The cleats won't bring Hilinski back — Cracraft knows that.
But he hopes they'll play a small part in both raising awareness for the cause and keeping Hilinski's memory alive.
"Just that [he] won't be forgotten," said Cracraft when asked what the gesture would mean. "It's easy for me to say because he was my friend, [it's] probably harder for people who don't know him to not forget. The people at Washington State, the people that knew him, even the people that were just close to football and knew of him — I think the people that will see this will appreciate it and maybe just reconnect them with what happened in January and again spread awareness."
To donate to Hilinski's Hope and help honor Tyler's memory, please **click here**.