ENGLEWOOD, Colo. --With young quarterbacks Trevor Siemian and Paxton Lynch receiving all the team-period work while Mark Sanchez continues to recover from thumb surgery, there have been some moments of brilliance for the offense over the first two days of OTAs.
But those spurts -- as well as the inevitable mental mistakes for the entire offense -- must be taken in the proper context.
"It's two days in. They look like they're two days in," Offensive Coordinator Rick Dennison said. "But they've got some talent. They're working together, working hard at it. Made some mistakes, learn from their mistakes and hopefully they'll get better."
Until this week, most of the day-to-day progress had to come in the classroom. Now it can include on-field work against the opposing defense.
But Lynch, in his first professional work, had already shown progress.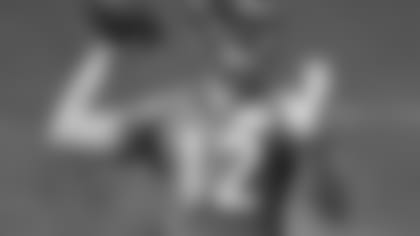 "Just each day, when you ask him a question, he comes back with a sharp answer," Dennison said. "It's getting closer. He doesn't have to sit and think. You can tell when they [quarterbacks] ask the question again, they stall for time. We don't fall for that anymore. He's just getting better and better."
So is Siemian, who Dennison said is "light years" from where he was last year at this time.
But what Dennison wants to see is not just about their mental preparation, velocity and accuracy of passes, or even their footwork.
It's about command, composure, leadership and control in the huddle. With every repetition, Dennison wants to see these qualities from his quarterbacks.
"Certainly handling the huddle and leading is the biggest part, I think," Dennison said.
That's where Lynch's learning curve is steepest, after he spent the last two years running the University of Memphis offense at the line of scrimmage, with the players looking toward the sideline for the call, rather than making it in the huddle.
"Reading coverage for [Lynch] is a little bit different, what we're asking him to do. he did a lot of work on the ball, looking at the sideline," Dennison said. "We're asking him to handle huddle and to handle the other 10 guys.
"That's the starting point, and he's done a good job progressing. We've got some ways to go. And then just handling the offense. Each one's little bit different."
And for whoever ends up as the starting quarterback, the responsibility is different: stepping into the huddle of the defending world champions, one that has plenty of leaders ready to step up.
"For some, I imagine it's a big challenge, but that's part of it," Dennison said. "That's a part of being a quarterback in the NFL. You've got to shoulder that responsibility, and guys that do do that very well."
And leadership doesn't necessarily have to come from the quarterback, at least not right away.
The quarterback has to "direct the show, so it's more likely" he will be a leader, Dennison added. But they could come from anywhere.
"Leaders will come up. They'll rise," Dennison said. "And I think the guys are good. They work hard together. They work hard for this team. We'll find somebody to follow. We'll all be in good shape."
Eventually, that will be the case. But the Broncos don't need to have their leadership -- or their offense -- in perfect working order on May 25.