DENVER -- **In the wake of the Broncos' 19-13 win over the Baltimore Ravens on Sunday, safety David Bruton Jr. said that he knew Ravens quarterback Joe Flacco would throw in the direction of tight end Crockett Gilmore on what turned out to be Baltimore's final offensive snap.
Bruton and Darian Stewart read the play perfectly down the middle, Stewart intercepted the pass, and the Broncos sealed the win.
Working from the slot down the seam, Chris Harris Jr. didn't know who would be targeted. But he did know the football would not go to Ravens WR Marlon Brown, his assignment in man-to-man coverage.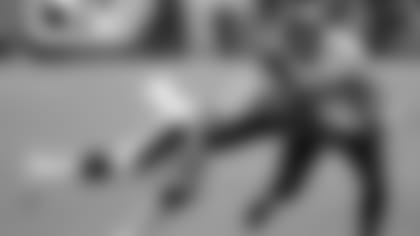 "I knew Flacco wasn't throwing at me, so I figured he was going to throw at the tight end (Gilmore)," Harris said. "I'm surprised he didn't try us there all game; he just started trying us at the end of the game."
Flacco had thrown in the general area of Harris five times, with little success. His targets caught four of the five passes, but gained 13 yards on those five plays, with none going for first downs. A mere five of those 13 yards came after the reception.
It would come as no surprise if Flacco simply decided not to throw at Harris, given that he intercepted him in their last two regular-season games -- in Week 15 of the 2012 season and Week 1 the following year.
"Yeah, I think that was the game plan -- just don't come after me at all," Harris said. "I mean, they're smart. He knows I've gotten him a couple of times, so just kind of eliminate me and let everybody else play."
With tight coverage from Harris and Aqib Talib and a ferocious pass rush, Flacco finished with a 38.2 quarterback rating on 18-of-32 passing for 117 yards. But that tally was skewed by the Ravens' play selection on their final drive: 12 passes and two runs.
Until that series, the Ravens called 22 pass plays and 21 runs, with most of the runs coming between the tackles. That left little for Harris to do.
"There's going to be games like that this year. And we know that we can win the nail-biters," Harris said. "And when you play a game like this, where they're trying to run the ball, you're just trying not to fall asleep. It's just being bored.
"Their offense, man. Joe, he wasn't testing us at all."
Harris respects the fact that quarterbacks sometimes avoid throwing at him. He knows it's a sign of respect. But he wants the chance to make plays, and with Flacco keeping deep passes to a minimum, those didn't happen.
"Sometimes teams at least throw it up one time," Harris said. "He didn't throw it up at all. You don't ever get a game where a quarterback doesn't throw the ball up at all. That's how it was today."
So Harris tried to maximize his chances, finishing with three tackles, including one for a loss when he tackled Kamar Aiken behind the line of scrimmage.
"I made plays on screens. They kept throwing those little dink-downs, so I'd just come in and make those tackles," Harris said.
"Hopefully it's going to pick up. Some teams will start challenging us, but as long as we keep locking up like this, I would be nervous, too."