ENGLEWOOD, Colo. --This week is a simulation of a regular-season week -- right down to the practice in full pads.
When the Broncos get to the regular season, they can hold one practice each week in full pads for the first 11 weeks of the season and 14 of the 17 weeks of the campaign in total. For Tuesday's work, they were in shells. Wednesday, they had a spirited practice of more than two hours in pads.
"Yesterday was a solid day, but today was better," Head Coach Vance Joseph said. "It was a full-speed, full-padded practice. I was impressed today."
Wednesday's practice corresponded to a Thursday during the regular season, which is the day Joseph said he plans to wear pads during his weekly preparation.
"Obviously during the season, it's league rules. You wear pads once a week, so we'll follow that," he said. "But right now, it's still training camp, so the more we can put on pads, we will."
Joseph put a greater emphasis on padded work this summer, in part because of the work he wanted to do to improve the Broncos' ground game and run defense.
"Well, it was training camp. You have to put on pads to play football. Running the football, stopping the run, that's been in pads," he said. "To build our mindset, it takes pads to do that."
... OLB Von Miller will play against the Packers on Saturday after sitting out the first two preseason games, Joseph said.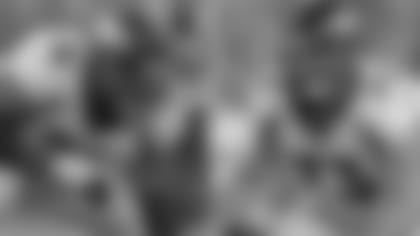 ... The competition between left guards Max Garcia and Allen Barbre "is going to be tight," Joseph said. The two continued to split first-team repetitions Wednesday, but Joseph hopes to have his starting lineup for Week 1 set after Saturday's game.
"Both guys have been doing well," Joseph said.
Garcia handled all the first-team repetitions during the first two weeks of training camp. They began splitting work with the No. 1 offense on Aug. 12 after Barbre got up to speed in the scheme.
"It took [Barbre] a while to figure out what we were doing as far as our calls, but for about two weeks now, he's been very solid," Joseph said.
The competition has helped Garcia's play, Joseph noted.
"Max has played very well the last couple of weeks," Joseph said. "Max's pass [protection] has improved an awful lot."
... Safety T.J. Ward was not wearing a helmet as he works his way back from a hamstring injury.
"We're taking it slow with T.J.," Joseph said. "Obviously Week 1 is important, and that's the goal for T.J."
Justin Simmons and Will Parks have handled the work for Ward the last two and a half weeks, and their play has impressed Joseph.
"They've both got bright futures and they're both good football players," Joseph said. "If we played tomorrow and they were both the starters, I would be fine with that."
... RB Stanley Williams took part in the entire practice after he arrived midway through Tuesday's session because of a flight issue after being claimed off waivers. He is expected to get a chance to play next week against Arizona, Joseph said.
... DE Jared Crick (back spasms), DE Derek Wolfe (lower ankle sprain), WR Carlos Henderson (thumb) and OLB Shane Ray (wrist) continued their recoveries and were sidelined.