ENGLEWOOD, Colo. -- **Some sights bring with them a sigh of relief. For the Broncos, seeing Shaquil Barrett aligned at outside linebacker opposite Von Miller during Tuesday's practice was one of them.
Even though their first-team front seven was still missing injured defensive ends Derek Wolfe and Jared Crick, Barrett's return was a welcome sight given the continued absence of Shane Ray because of a torn wrist ligament.
"That group looks different with Shaq out there," Head Coach Vance Joseph said.
Barrett saw work in individual and team periods Tuesday, and he looked particularly agile in one-on-one pass-rush drills, getting to the edge and changing direction effectively. During one team period repetition, he forced a hurried incompletion with a backside rush.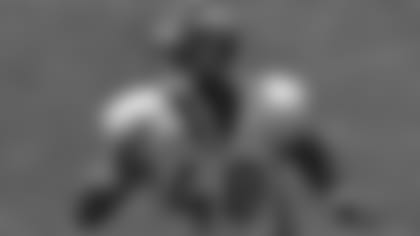 "It's his first day back, so he's actually day-to-day right now, but he's looking good [and] he's feeling good," Joseph said, adding that there was "absolutely" hope that Barrett could play in the regular-season opener Sept. 11 against the Los Angeles Chargers.
That is Barrett's hope, as well. He doesn't expect to play in the preseason, but if he's ready for Week 1, the Broncos can breathe easier knowing they have a proven contributor with starting experience in their scheme playing on Miller's opposite side.
"He can do a lot of the things that I can do out there," Miller said.
... With this being a simulation of a regular-season week, the Broncos ditched the first-team-vs.-first-team repetitions that defined nearly all of their practices from OTAs through last week.
The No. 1 offense and defense worked against scout-team units that mimicked the Packers' tactics, as is typical of regular-season preparation.
... RB Jamaal Charles saw extensive work Tuesday and should get on the field early Saturday night against the Packers in his Broncos preseason debut. Joseph said he expects to work Charles into the first 15 snaps of the game.
The Broncos have monitored Charles' repetitions closely throughout the last few weeks as they look to see how the 10-year veteran's knee responds to an increased workload. But Charles himself has tried to put the knee out of his mind.
"I'm not even worrying about it," he said. "If [an injury] happens again, it happens. I've always believed that what is supposed to happen is going to happen, so if it's meant to be, it's meant to be. Right now I'm just going to go out there and play freely."
... As expected, Allen Barbre and Max Garcia split first-team repetitions at left guard Tuesday.
"They're both playing very well," Joseph said. "We just want to see who's the best guy for the job. Max has been aggressive; he's been better in pass [protection], and obviously Barbre is a savvy vet, so he's done a good job, also."
... Although TE Jake Butt is "getting better," Joseph said that the fifth-round pick is expected to be placed on the physically-unable-to-perform list when the regular season begins. Butt is eligible for the PUP list because he has not taken a practice snap as he continues to recover from a torn ACL he suffered in the Orange Bowl last December.
Players that start the regular season on the PUP list are ineligible to join the 53-man roster for the first six weeks of the regular season. The Broncos would potentially have up to 14 weeks in total to decide whether to add him to the 53-man roster, depending on if and when he begins practicing this season.
... S T.J. Ward took part in individual drills Tuesday. It was his first on-field work since he injured his hamstring in practice Aug. 4. "He didn't do any team drills, so as we go along, we'll see how he feels [Wednesday] and we can keep adding different drills for him," Joseph said.
... ILBs Todd Davis and Brandon Marshall both worked in the team periods of practice. Both were sidelined with injuries for last Saturday's preseason game against the 49ers.
... WR Emmanuel Sanders (shoulder), OLB DeMarcus Walker (hip flexor) and WR Cody Latimer (hamstring) all returned to practice after missing the 49ers game.
... WR Isaiah McKenzie left practice because of a knee to the thigh, but is fine, Joseph said.
... With Wolfe and Crick still sidelined, Zach Kerr and Adam Gotsis continued to take first-team repetitions at defensive end.
... RB Stanley Williams arrived midway through practice. Williams flew to Denver after being claimed off waivers from the Bengals on Monday.
... WR Carlos Henderson (thumb) and OLB Shane Ray (wrist) continued their recoveries and were sidelined. RB Devontae Booker, who is on the PUP list because of a fractured wrist, watched part of practice from the sideline.