ENGLEWOOD, Colo. --Rookie quarterback Paxton Lynch's learning curve is going to be steeper on some days than others. Tuesday was one of those days, as he saw extra snaps while Trevor Siemian did not throw while resting his sore shoulder.
... Siemian did not throw, but ran the offense during team periods when run plays were called. "He got a very sore shoulder when he made that tackle [Saturday] night," Kubiak said. "He took individual [repetitions], but was unable to throw today, so we'll see where we're at [Wednesday]."
... Kubiak said he still expects Siemian to start Saturday against the Los Angeles Rams, per his plan announced Monday. Kubiak added that he expected to decide on which order he'd use his quarterbacks toward the end of the week.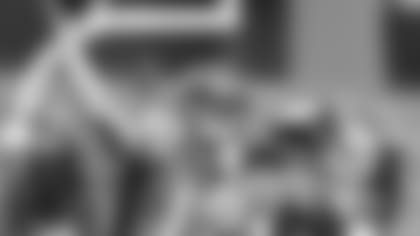 ... Paxton Lynch ran the scout-team offense, which meant he had to go against the No. 1 defense for much of practice. But with Siemian resting, he also saw a fair amount of work with the No. 1 and No. 2 offense during seven-on-seven and team periods.
"You've got to wear a lot of hats to play in the NFL. If you're going be a young player on a team, you've got to come out here on a given day and do a lot of things and work the other team's stuff good, and work your stuff good," Kubiak said. "So that's what he's learning. Without Trevor practicing today, obviously his reps picked up, but that goes for a lot of guys, too."
Lynch's work with the first team led to some good connections, including a strike down the seam to a crossing Demaryius Thomas, a connection on a slant route with Cody Latimer, a nice toss to Jordan Taylor off the play-action bootleg and, finally, a deep strike to Emmanuel Sanders, who caught it in the west end zone for the touchdown.
But what happened on the next play after the pass to Sanders told the story of his up-and-down day, as he worked with the scout team and was picked off in the left flat by Chris Harris Jr. for a touchdown. Bradley Roby had an interception of Lynch on a similar pass earlier, and finally in first-team-vs.-first-team work in the red zone, Darian Stewart stepped in front of a pass intended for Virgil Green in the end zone and returned it all the way to the opposite goal line, although he slowed up at the end, allowing Thomas to strip the football.
It was a trial by fire for Lynch against the "No Fly Zone," and punctuated a dizzying, busy day for Lynch. But it will one that will force him to improve as he learns what he must do against a first-team defense that appears to be the fastest in the NFL.
"It definitely helps, but boy, is it tough. The kid's out here today running the Rams offense [with the scout team], the Broncos offense," Kubiak said. "But that's what gives you a chance to get better."
... Mark Sanchez saw the rest of the passing work, with only a handful of scout-team snaps; all of the remainder of his work came with the first and second units. He had some completions under pressure and did not throw any interceptions Tuesday's practice.
... OLB DeMarcus Ware practiced for the first time since the week leading up to Super Bowl 50. Ware moved off the NFI list and onto the active roster Monday after his recovery from back issues had advanced to the point where he could practice. He saw individual work Tuesday before going into the weight room to work with Strength and Conditioning Coach Luke Richesson.
Ware's target for a full return remains the Week 1 game against Carolina on Sept. 8, but he will have a limit. "You're not going to see him out there playing 60 plays," Kubiak said.
... CB Aqib Talib got sick Tuesday morning and did not practice.
... OL Darrion Weems is "doing well," Kubiak said, but remains in the league-mandated post-concussion protocol. Michael Schofield worked at right guard Tuesday, and will start there if Weems cannot play against the Rams.
... OL Ty Sambrailo (elbow), WR Bennie Fowler (elbow) and TEs Garrett Graham (shoulder) and Jeff Heuerman (hamstring) remained sidelined.
... DE Derek Wolfe was excused from practice to attend to a personal matter. Newly signed DL Henry Melton took his spot on the first team and notched two quarterback pressures.
... OLB Dekoda Watson also did not practice because of a personal matter.
WEATHER REPORT:Clouds built throughout the practice, with temperatures remaining between 80°F/27°C and 82°F/28°C.