In his third year with the Broncos, Jordan Norwood continues to be a versatile addition to the extremely talented wide receiver corps while proving to be a key member on special teams. Last season, Norwood had one of the most memorable moments of Super Bowl 50 when he returned a punt 61 yards, the longest punt return in Super Bowl history. So far in 2016, the wide receiver has recorded 13 receptions for 120 yards. Off the field, Norwood and his wife, Aleah, are photography enthusiasts, often taking photos of their 11-month-old daughter, Franni Grace Norwood.**
This team is so deep and competitive at wide receiver, and also extremely close. How does it manage to be both?
We know we have a good group. We know that any one of us can step in there and make catches and make plays — that's the part that's exciting. We know we can be productive, which makes it easy to cheer each other on.
What's it like this year with two young quarterbacks and a more veteran wide receiver group? How do you both help each other out?
It's exciting. For Trevor [Siemian] and Paxton [Lynch], there's nothing but upside. They have all the talent in the world. They have a lot of guys around them — wide receivers, running backs, [offensive] line, tight ends — everyone's just rallying behind them. We're just excited to see what they continue to do. They're great players, they're learning. They're great at correcting mistakes when we make them and we help correct theirs too. We just feed off each other, I think, and that's what we really need to do moving forward. 
In Super Bowl 50, you returned a punt for 61 yards. How special was that for you to be able to make such a major play in such a big moment?
That's one of the best moments of my NFL career and my life, especially being able to share it with my family, being able to see them after the game on the field. I'll cherish that forever.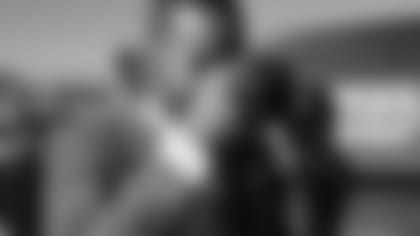 We often see you exercise your artistic side as a photographer on the tarmac before road trips or in other photos from your personal life. What's your favorite subject to shoot?
My wife and I are starting a little photography studio. We actually just shot Todd [Davis] and Corey [Nelson's] family portraits for them the other day. They turned out pretty good. We'll probably keep going with that. I'll try to pick up some clients here in the locker room and see what we can do.
What does your interest in photography stem from?
I've always been interested in art and graphic design. I always paid attention to how my photos looked on Instagram regardless of if I had a good camera or not. My wife bought me a camera for my birthday a few years ago. I just started messing with it and YouTubing how to use it.
Do you have a favorite photo that you've shot?
I have a couple. A picture of the Super Bowl ring that I took is one I really like and then a couple landscape shots. Actually, just shooting [Todd and Corey's families] was a lot of fun.