DJ and producer Tiesto stopped by the UCHealth Training Center on Friday to visit with the Broncos, his favorite NFL team. The Netherlands native has officially adopted Denver has his team – and they're happy to have him. Check out how he became a Broncos fan, his most memorable game and how he gets ready for sets below.
When did you become a Broncos fan?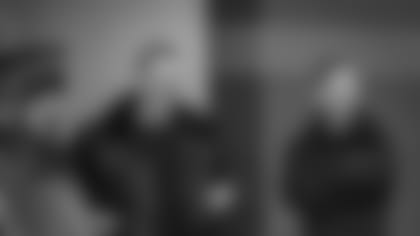 "I've always been a football fan, and I'm from Europe, so I didn't really have a team. But I support all my friends' teams and one of my good friends is from Denver and also my girlfriend is from Denver so I thought, I've got to adopt them."
Is American football popular in the Netherlands?
"Not at all. Not even the Super Bowl is live on television. We are all just into soccer and ice skating and hockey, field hockey."
How did you become a fan of American football?
"I started touring here in 2001 and in the winter, I spent a lot of time here. I have a lot of friends that are into it, so you just get dragged into it, on TV watching it and it's a lot of fun, once you get into it."
A lot of our players have specific pregame rituals. What do you do before a big set?
"My pre-ritual is to have a bunch of people in my dressing room and have fun and have a couple drinks, so that's the biggest difference, I guess. And I listen to music to get pumped up. I guess that's kind of similar, I consider every DJ set as a match, as well."
What music do you listen to, specifically before a set?
"I listen to the DJ who plays before me. I always hope it's a good one. I can always listen and sometimes when his act's a little too slow, I'll take over earlier, or if he's good, I'll let him play a little longer."
What's next for you musically?
"I'm releasing a couple of singles, just on a regular basis. I have a lot more underground singles, more on Beatport, which is actually a company from Denver, too. A lot of DJs release their music through their website. Just a couple new singles, but I don't know exactly when they're going to come out. I just finished another one this week."
Having been to Denver many times, what's your favorite thing to do?
"I like to go to the mountains. I like Vail a lot and Aspen and it's such a clean city, so it's nice to walk around here. Even today, it's kind of cold, but there are beautiful skies, so it's really nice, actually."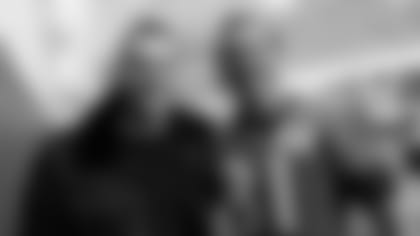 Having been to a couple Broncos games before, which ones are the most memorable for you?
"The most memorable for me was against the Chiefs because it was such a blowout. It was like [38-3] and there were a couple of incredible catches, so that was a really good game."
Do you have a favorite player?
"No, actually. I like the whole team. I don't really have a favorite player. Of course the quarterback always gets the most credit, but I think this year the defense has been so good. I think they saved the season, pretty much. Got to give those guys some credit."
What are you excited to see this Sunday when the Broncos host the Patriots this Sunday?
"I've been to games a couple times, so this is my third time and I think the stadium is beautiful, it's outdoors and I hope the sun is shining. No matter how cold it is, if the sun is shining, it's amazing and I expect to win, of course. We've got to beat the Patriots!"