ENGLEWOOD, Colo. --Just under three hours after Tuesday's practice ended, the complexion of the Broncos' offensive line changed with the announcement that they agreed to terms with two-time Pro Bowl guard Evan Mathis.
It should have come as no surprise. Although Head Coach Gary Kubiak didn't say the Broncos were looking for outside help on the offensive line, he didn't rule it out.
"I think we always look at everything," Kubiak said, "You're always trying to look to make your football team better."
This week was going to be the last viable chance to make any alterations to the line before the Week 1 game against Baltimore. But when they practiced Tuesday, the line was status quo: Ty Sambrailo and Max Garcia on the left side, Ryan Harris and Louis Vasquez on the right, and Matt Paradis in the middle.
"I'll just say this: I've been really impressed with how far they've come," Kubiak said. "I think we've got to continue to keep in perspective that we try not to get too far ahead, and they're responding.
"So I think every day is a test, every week is a test, but I think for what they've done so far, it's a positive, and we're trying to get them ready to go against a really good group (the Baltimore Ravens) here in three weeks."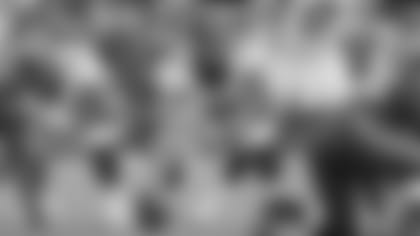 The progress for the entire unit has been palpable, but Paradis' growth has been exceptionally quick. The intelligence and quickness that was evident from his tape at Boise State has come to the forefront, and allowed him to quickly adapt to making the checks and calls at the line of scrimmage.
"The thing that's very encouraging right now is that Paradis has become the leader of the group," Kubiak said. He's got everybody on the same page. He's played well."
Added QB Brock Osweiler: "He's really embraced the starting role. He studies hard. He understands football. He's a smart guy. He's a tough guy. He goes out there and he's the captain of the O-line. He's making calls. He's making the right calls. He's doing a fantastic job."
And now he'll be flanked by Mathis and Louis Vasquez, the first-team All-Pro guard tandem just two years ago. Mathis went to the Pro Bowl last year; Vasquez had a good shot to return before being moved to right tackle at midseason.
But don't expect Mathis to step into practice right away, given the Broncos' recent trend of easing players into work. That will keep Garcia at left guard for now, and with the work he will receive, he has a good chance to be the swing backup inside once the regular season begins.
But it's hard to beat having a pair of recent Pro Bowlers at the guard spots.
What more do you need than that?
... Contact was limited during a two-hour practice at midday, but the linemen did face each other in one-on-one drills, and Von Miller again had the single best move, getting past Sambrailo and maintaining his speed while doing so. Miller promptly sprinted over 50 yards to the third field in celebration.
... Kubiak said that the team will wear shoulder pads with shorts during joint practices with the 49ers this week. "[49ers head coach Jim Tomsula] and I talked, and we just want to do everything we can to keep everybody off the ground," Kubiak said.
... Kicker Connor Barth handled all the work during a placekicking period and was 5-of-6 on attempts from PAT range to 55 yards.
... CB Aqib Talib shredded the scout-team offense, intercepting Zac Dysert twice ...
... Although Kubiak said he wants to continue to give RBs C.J. Anderson and Ronnie Hillman their due work, he said he wanted to see Montee Ball handle more carries this week. Ball showed explosion in getting around the right side behind the first-team offensive line and into the open field for his longest run Monday.
... Kubiak added that he wanted to give Kapri Bibbs some additional repetitions this week.
... The depth chart issued Monday remained largely unchanged, aside from the addition of rookie TE Jake Murphy to replace NT Marvin Austin Jr., who was placed on injured reserve. But Kubiak cautioned his players not to read too much into the depth chart.
"I always tell the players, if you're fifth in line at a spot, but you're good enough, the team will find a way to keep you on the team, or in this league," Kubiak said. "If you're second in line by depth chart, it doesn't mean you're here, because there are guys that get cut. You always have to earn the right to be on your football team, and that's going to go all the way to the very end."
... WR Emmanuel Sanders did not have a helmet and watched most of practice, although he jogged and caught some passes. "The expectations are for him to be back on the practice field before the week is out, so we'll see," Kubiak said.
... OLB Lerentee McCray spent practice stretching and working out in between fields. Kubiak said he expects that McCray could "maybe" return to practice by the end of this week or the beginning of next week. "We're doing everything we can to get him ready for opening weekend, basically," Kubiak said.
... CB Tony Carter continues to be brought back slowly from a hamstring problem. Curtis Marsh continued to see plenty of work in his absence.
... ILB Danny Trevathan was back working with the first team after sitting out Saturday's game as he completes his recovery from offseason kneecap surgery. Kubiak said that he plans to play Trevathan on Saturday. "We'll get him caught up this weekend," Kubiak said.
... DE Kenny Anunike (knee) and TE Jeff Heuerman (torn ACL) were the only players who were not out on the practice field in some capacity for the session.
No new injuries were reported.
The Broncos took to their first practice since training camp ended and since their second preseason game on Saturday.