ENGLEWOOD, Colo. --Given the injuries to so many star quarterbacks around the league this season, it was a surprise that Christian Ponder lingered on the open market until he signed with the Broncos on Wednesday.
Since being released by Oakland at the end of the preseason, Ponder remained at his Phoenix-area home, working out and waiting for another opportunity. He had some workouts, but nothing came to fruition.
"I worked out for Dallas earlier. That actually did not go well at all. I had a bad workout," Ponder recalled. "I worked out for Tennessee a few weeks ago. That went really well. I don't know if they were actually interested in a quarterback at the time, but I thought that went well. Then this was the third."
And that was the charm for the 2011 first-round pick.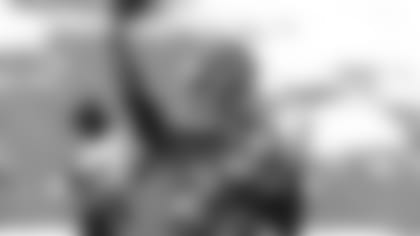 "I got here at 10:30 last night, worked out this morning and got signed immediately," Ponder said. "It feels good to be here."
It obviously feels good to have a playing job. But this one is special for Ponder, who will wear jersey No. 2, but whose previous jersey number -- 7 -- was an homage to John Elway.
"I grew up in Dallas, and everyone thought I was a Cowboys fan, but I grew up a Broncos fan, and a John Elway fan," Ponder said. "I was No. 7 from little-league baseball through college, and then four years in Minnesota because of that, so I'm excited to be here."
Ponder helps Kubiak feel better about the team's healthy quarterback depth in the wake of Peyton Manning's foot injury.
"There was a concern, too, because we're sitting here with a guy who has one start in this league [Brock Osweiler] and a kid who doesn't have a play [Trevor Siemian]," Kubiak said. "Me and John started thinking about the concern if something happened. Good that Christian was out there.
"He has a little bit of a background in some of our verbiage playing for Bill Musgrave," Kubiak added.
Musgrave was the Vikings' offensive coordinator from 2011-13 and was a backup quarterback from 1995-96 under Kubiak when he was the Broncos' offensive coordinator. Musgrave and Kubiak were also together for one season (1994) in San Francisco. Ponder also worked under Musgrave this summer with the Raiders.
"There is a little different verbiage, but hopefully in a week or so, I'll start getting stuff down, maybe shorter than that," Ponder said. "I'm going to put in the time and the effort to do it as quick as possible."
Kubiak said that Ponder will likely "get more involved next week," but that this week, the Broncos will operate as they did last week, with Siemian as the backup quarterback. When the three healthy passers worked in the individual period of practice, Osweiler saw the first repetitions, followed by Siemian and then Ponder.
That's a first step. The rest will come later. But Ponder has his foot back in the NFL door after nearly three months outside.
"It's been an interesting year," Ponder said. "A lot of quarterbacks have gone down and a lot of backups have had to step up. It was just an opportunity. A door opened for me and I'm glad it did."
During the Broncos' Wednesday practice preparing for the Patriots, Christian Ponder joined in after being signed that morning and DeMarcus Ware stretched with the training staff.