DENVER --The last time Shaquil Barrett saw as much game-time work as he did Saturday, he wore gold horns on a green helmet and was the Mountain West Conference's Defensive Player of the Year.
The former Colorado State standout played 58 total snaps -- 43 on defense and 15 on special teams -- in the Broncos' 19-12 win over San Francisco on Saturday. Those totals include plays run but wiped out because of penalties.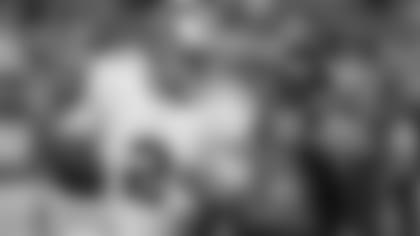 Right behind Barrett were CB Kayvon Webster (57 snaps -- 45 on defense, 12 on special teams) and safety David Bruton Jr. (53 snaps -- 33 on defense, 18 on special teams).
Other playing-time notes:
... OLB Shane Ray received the most defensive snaps Saturday, playing 46 of 55 snaps (84 percent). Ray and Barrett received heavy workloads because Head Coach Gary Kubiak and Defensive Coordinator Wade Phillips opted to remove starting OLBs DeMarcus Ware and Von Miller after nine snaps apiece. Given that they each had a sack in their brief stints, they did enough to show their readiness for the regular season.
... Webster worked 82 percent of the snaps because he saw nickel and dime work with the first team because of Chris Harris Jr.'s hamstring injury.
... DE Vance Walker and NT Darius Kilgo led all Broncos defensive linemen by playing 32 of 55 snaps (58 percent).
... QB Peyton Manning and the first-team offensive line of Ryan Harris, Louis Vasquez, Matt Paradis, Ty Sambrailo and Max Garcia led the way with 42 snaps apiece as they took every first-half repetition. (The total includes one snap negated by a San Francisco penalty.) That total represents 54 percent of the offense's work for the game.
Just behind those six players was TE Owen Daniels, who played 39 of 42 first-team snaps. WRs Demaryius Thomas and Cody Latimer played 38 and 37 snaps, respectively.
... QB Brock Osweiler and the No. 2 offensive line of Chris Clark, Shelley Smith, Gino Gradkowski, Ben Garland and Michael Schofield played all 36 offensive snaps in the second half.
... C.J. Anderson led all running backs with 31 snaps, all on offense. Juwan Thompson saw 27 snaps (15 on offense, 12 on special teams), followed by Ronnie Hillman (24 snaps, including 19 on offense) and Montee Ball (11 snaps, all on offense).
... Bruton played a team-leading 18 of 28 special-teams snaps, followed by ILB Corey Nelson (16 of 28). Barrett (15 of 28), and ILBs Todd Davis (15 of 28) and Steven Johnson (14 of 28) were the only other Broncos to work at least half of the special-teams plays.
... In addition to the kicking specialists and long snapper Aaron Brewer, 10 Broncos played only on special teams: ILBs Lamin Barrow, Reggie Walker and Zaire Anderson, OLB Danny Mason, CBs Taurean Nixon and Tevrin Brandon, RBs Kapri Bibbs and Jeremy Stewart, TE Marcel Jensen and center Dillon Day.
... Eleven Broncos did not play a single snap Saturday: QBs Trevor Siemian and Zac Dysert, safety Ross Madison, OLB Chase Vaughn, OLs Andre Davis, Kyle Roberts, Charles Sweeton and Evan Mathis, TEs Jake Murphy and Dan Light and DL Chuka Ndulue. Mathis and Light were added to the roster in the previous four days and are still being brought up to speed. Mathis did not dress, but Light, a Friday waiver claim, was in uniform and warmed up for the game.
... Six injured players also sat out: CBs Chris Harris Jr. (hamstring) and Tony Carter (hamstring), WR Emmanuel Sanders (hamstring), OLB Lerentee McCray (groin), DE Kenny Anunike (knee scope) and TE Jeff Heuerman (torn ACL).