David Bruton Jr. was the busiest Bronco during the 14-10 win at Houston on Saturday.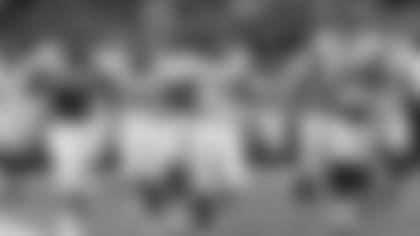 Bruton played 47 percent of the snaps on defense as he worked with the second unit and saw some first-team sub package time in the Broncos' first-team dime package, working as one of two deep safeties with Darian Stewart while T.J. Ward roamed elsewhere. But it was the 14 snaps Bruton played on special teams -- more than anyone on the roster -- that pushed him to a grand total of 49 of the possible 168 plays on offense, defense and special teams.
Those 168 snaps include plays wiped out because of penalties.
More playing-time notes follow:
... Next on the list behind Bruton was offensive lineman Shelley Smith, who led the offense by playing 48 of 69 snaps on that side of the football. Smith's shift encompassed the entire second half and two series in the second quarter when he replaced Louis Vasquez, who exited the game at the same time as QB Peyton Manning, WR Demaryius Thomas, TE Owen Daniels and RB C.J. Anderson.... Following Smith were starting offensive linemen Max Garcia, Ryan Harris, Matt Paradis and Ty Sambrailo. They played every first-half offensive snap (43, including penalties).
... NT Darius Kilgo was the defensive leader, playing 42 of 74 snaps. Right behind him was CB Bradley Roby with 40 snaps. Rob worked in first-team nickel and dime packages, then, like Smith, was one of the first backups off the bench because Chris Harris Jr. was pulled after the first quarter while most to the other defensive starters remained on the field.
... Brock Osweiler led the quarterbacks with 36 snaps. Peyton Manning followed with 21, and Trevor Siemian saw 12 snaps. Zac Dysert did not see action.
... WR Cody Latimer remained the busiest wide receiver. He played 36 snaps, more than anyone else at his position. Jordan Norwood played 24 snaps, and Bennie Fowler, Nathan Palmer and Isaiah Burse saw 19 snaps each on offense. Fowler added eight plays on special teams, followed by Palmer's six and Burse's three, all on returns.
... OLB Shaquil Barrett played 34 of 74 defensive snaps (46 percent), more than any other linebacker, and worked on 10 of 25 special-teams plays. Barrett had another stellar night, with a sack, two quarterback hits and a forced fumble.
... Bruton and ILBs Corey Nelson and Zaire Anderson were the only Broncos to play more than 50 percent of the snaps on special teams. Nelson and Anderson had 13 apiece.
... Among the tight ends and fullbacks, Virgil Green (34 snaps on offense) was the busiest player. James Casey and Owen Daniels saw 18 snaps apiece. Dominique Jones (16), Marcel Jensen (11) and Joe Don Duncan (six) rounded out the group. The recently claimed Jake Murphy was in uniform, but did not play.
... Ronnie Hillman's 21 offensive plays led the running backs, and he had one appearance on special teams. C.J. Anderson (17), Juwan Thompson (11), Montee Ball (10) and Kapri Bibbs (eight) followed.
... Nine Broncos played only on special teams: LS Aaron Brewer, punters Britton Colquitt and Spencer Lanning, placekickers Connor Barth and Brandon McManus, RB Jeremy Stewart, center Dillon Day, guard Andre Davis and safety Ross Madison. Five Broncos in uniform did not play: Dysert, Murphy, offensive linemen Kyle Roberts and Charles Sweeton and WR Solomon Patton.
From Osweiler's 57-yard TD pass to the game-winning TD reception by Corbin Louks, here are our very best photos from the Broncos' 14-10 win over the Texans. (Photos by Eric Bakke unless otherwise noted)