ENGLEWOOD, Colo. --** A night off for a quartet of safeties led to a busy game for Josh Bush.
Bush played a combined 86 snaps on defense and special teams (including plays nullified by penalties), and saw more action than anyone else on the roster during the Broncos' 22-20 loss to the Arizona Cardinals on Thursday. Given his playing time and his penchant for making plays in the box and the flat, it came as no surprise that he was one of the Broncos' co-leaders in total tackles with seven, along with OLB Shaquil Barrett.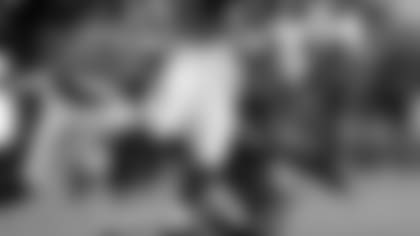 The Broncos needed extensive work from Bush because T.J. Ward, Darian Stewart, David Bruton Jr. and Omar Bolden all watched from the sideline. Bruton was held out because of a rib injury he suffered after being hit on a peelback block by San Francisco WR Anquan Boldin at the end of the first half of last Saturday's preseason win.
The only Bronco within 15 snaps of Bush's workload was rookie cornerback Lorenzo Doss, who saw 57 snaps on defense and 16 more on defense.
... With just eight offensive linemen seeing playing time, it was no surprise that three of them played all 65 offensive snaps Thursday: OTs Michael Schofield and Kyle Roberts and guard Shelley Smith.
... Schofield also played five special-teams snaps, giving him 70 total repetitions, third-most on the team. Next were safety Josh Furman (48 defensive snaps, 21 on special teams), Roberts (67, including two on special teams), OLB Gerald Rivers (43 on defense, 23 on special teams) and Smith (65 on offense, one on special teams).
... Gino Gradkowski played 22 snaps as he handled center duties in the first half. Max Garcia moved over from left guard to center and worked there in the third quarter; fellow rookie Dillon Day manned the middle in the fourth quarter.
... RB Montee Ball played 43 snaps; Kapri Bibbs had 22. Ball also led all offensive players with 18 special-teams snaps, good for 60 percent of the workload in that phase.
... Rivers and ILB Zaire Anderson led the entire roster with 23 special-teams repetitions apiece.
... Dominique Jones was the busiest of the tight ends active for the game, playing 52 offensive snaps (80 percent). Marcel Jensen played 20 snaps (31 percent). FB/TE James Casey played seven snaps on offense.
... Sione Fua was the busiest defensive lineman, playing 58 of 72 snaps on defense. Chuka Ndulue followed with 53 snaps, and Josh Watson had 52.
... Barrett led all linebackers with 58 snaps (81 percent).
... No wide receiver had more repetitions than Isaiah Burse (46 of 65 on offense).
The Broncos and Cardinals exchanged touchdowns in the second half until Arizona came out on top, 22-20.