INDIANAPOLIS --For the first time in his 16-year NFL career, quarterback Peyton Manning entered Lucas Oil Stadium as a visitor.
As Manning and the Broncos were introduced, a video tribute recapping Manning's time with the Colts played on the scoreboard.
"It was very nice. Very nice gesture by the Colts to do that," Manning said. "I truly appreciated it. It was a great reception from the fans and I truly appreciated that as well. Something I'll always remember. I'm very grateful for it. Really pretty special minute and a half there."
After receiving a warm reception from the 67,196 Colts faithful on hand, Manning was dealt a loss by the team he played 14 seasons with to start his career.
There was much talk and hype about the homecoming game throughout the week, and while Manning said he was never distracted by the off-the-field storylines, he admitted feeling a little fatigued by all the talk.
"There's no question I was emotional during that tribute," Manning said. "I thought I came back pretty quickly and was ready to play for kickoff. I felt probably a little tired coming into this week. I'm kind of in some ways somewhat relieved this game is over.
"I feel like, hopefully, we'll have a chance to play these guys again. Because that would mean we'd made the playoffs. We have a long way to go before then, but you certainly see them being in the postseason for sure. I think if there is a next time, it may be a little bit easier just because it was somewhat of an emotional week. It can be a little bit draining, I will say that."
Manning faced heavy pressure from the Colts defense throughout the game.
The Broncos offensive line was without right tackle Orlando Franklin, who was injured in the team's Week 6 win vs. Jacksonville, so Louis Vasquez slid from right guard to right tackle and Chris Kuper joined the starting lineup at right guard for the first time this season.
"Injuries are a part of it," Manning said. "You have to be able to overcome those things. Certainly we had some guys playing in some different spots tonight. That's never easy, playing on the road in a loud stadium against a good pass rush. But, we'll learn from it and try to be better the next time."
Linebacker Robert Mathis, who spent nine years as Manning's Colt teammate, took advantage of his first opportunity to rush No. 18. Mathis finished with a pair of sacks and hit Manning four times in the game.
Manning wound up taking 10 hits and was sacked a season-high four times, including one by Mathis that saw the ball go out of bounds in the end zone for a safety.
"That was a big play," Manning said. "Robert Mathis is a great player. That was a great play by him. That one was, among others, a couple of plays where we gave them some points and some field position. Ultimately that was just too tough to overcome."
Manning finished 29-of-49 for 386 yards with three touchdowns and an interception, posting a 96.1 passer rating.
He led an offense that outscored Indianapolis 16-6 in the fourth quarter, but couldn't finish off the comeback effort.
"This is a game that we need to learn from," Manning said. "We had four turnovers and still somehow had a chance to win that game. I'd like to have seen it go to a two-point game down there toward the end and seen what would have happened. Never quite got to that point, but you can go back to different parts of the game – we got behind and (there were) mistakes there but we still had a chance there at the end. We did fight and hung in there. We can learn from it. We certainly have to improve from this game because we weren't as sharp execution-wise as we'd like."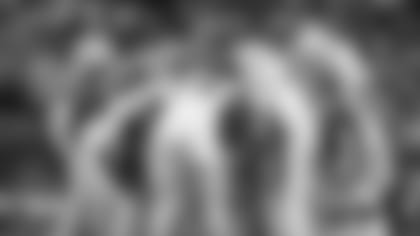 news
'We didn't play our best football': Broncos' late-game heroics fall short as Denver drops 22-17 decision to Texans
"It's frustrating of course, but I still know that we have a lot of heart and a lot of confidence in this locker room, and guys know we can go out and compete with anybody," wide receiver Courtland Sutton said.