ENGLEWOOD, Colo. -- **One by one, Peyton Manning checked milestones on his road to recovery off his list.
Offseason conditioning. Padded practices. Preseason games. The regular-season opener. A division title. A No. 1 seed.
"It's been quite a year for me," Manning said. "It's been like no other year I've ever been through."
With a neck injury forcing the quarterback to miss the entire 2011 season, Manning spent 20 months between meaningful football games. He wasn't allowed to walk as part of his rehab until October 2011. He first began throwing two months later.
"I remember one year ago I was in a hospital bed watching opening day, so there's a little reminder there of how far I've come," Manning said. "Certainly I have had those checkpoints along the way, reminders of where I was a year ago."
Now, four months after the regular-season opener that announced the 15th-year quarterback's return, Manning's checklist isn't complete.
The next step comes Saturday – a chance to get back to the AFC Championship Game.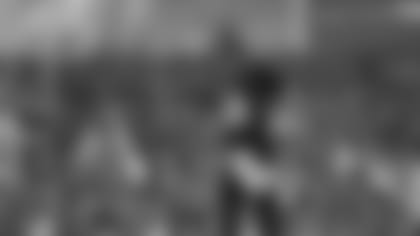 "I really didn't have any expectations," Manning said of the 2012 campaign. "I guess if I had some, I definitely would have to say that it's exceeded the expectations and some things have come together, probably, quicker than I expected."
Head Coach John Fox called Manning's return to form "unprecedented." The signal caller set franchise single-season records for completions, passing yards, completion percentage, touchdowns and passer rating en route to becoming the first quarterback in NFL history to make a Pro Bowl after missing the previous year due to injury.
"I think it's pretty historical, to be honest with you," Fox said. "To come back after the injury he had, the residual of the injury he had, it takes a special guy. To come to a new team, new teammates, new city — everything about it new other than the conference — it's pretty amazing, actually."
After 14 seasons with the Indianapolis Colts, Manning's transition to a new team is part of what the quarterback said made the past year so different – and what Fox said made it so remarkable.
The first step in the process was picking a team, and Manning said it came down to comfort level.
"You try to narrow it down to some teams that you think you can feel comfortable with and you make a decision," Manning said. "You can't know everything about a team when you're making a decision like that."
The Broncos had a few things going for them, wide receiver Eric Decker said, including an AFC West crown, young, unselfish talent and five returning Pro Bowlers.
So when Manning made his decision to don orange and blue for the next phase of his career, Decker knew it would take the team to another level.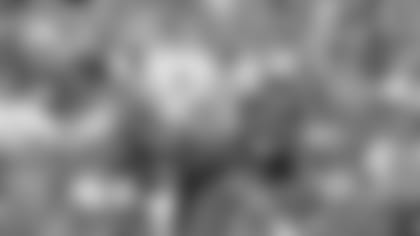 "It was definitely an honor and a blessing to have a future Hall-of-Fame quarterback pick the Denver Broncos and want to win with this organization," Decker said. "To have him add a big piece to our offense has really helped with the team in general."
Manning went from newcomer to team captain to Pro Bowl starter and potential NFL MVP quickly on a team that finished fourth in the NFL in total offense and scored 30 or more points in a club-record 11 games.
"I think the way he's handled the situation coming in here on short notice in the offseason and working extremely hard and really showing everybody from a quarterback position, this is the way it should be done, we're very fortunate," Offensive Coordinator Mike McCoy said. "It's an honor and a privilege to coach a guy like this, and we're making the most of it."
Players in the locker room couldn't overstate Manning's role in the Broncos' 13-3 regular season, which brought with it a second consecutive AFC West crown and the AFC's top seed in the playoffs.
His on-the-field exploits have been well-documented. He trails only Brett Favre in total wins by a starting quarterback and became the fastest player in NFL history to reach 400 touchdown passes this season.
But it's behind the scenes where Manning makes arguably just as big an impact.
"I don't know if it's so much his competitiveness as his accomplishments, his work ethic, what he does," Fox said. "He raises all boats, for sure. Guys see that, and he raises the bar pretty high for all his teammates."
Team captain Wesley Woodyard said watching the way Manning acts on the practice field has helped the team produce.
The linebacker recalled that during the team's playoff bye week, there was even some light-hearted trash talk back and forth between Manning and the defense as the two sides of the ball worked against one another to prepare for the Divisional Round.
"I think Peyton comes to work excited about being here -- amped up, getting guys better," Woodyard said. "He's having fun. He's out there like a rookie quarterback just enjoying himself and I think that's what it's all about. When your star quarterback is able to have fun and not be tight all the time, it relaxes the team."
Decker and fellow wide receiver Demaryius Thomas have benefited from Manning's accuracy on the field – he completed at least 70 percent of his passes in a team-record nine games – as much as his approach to the game off it.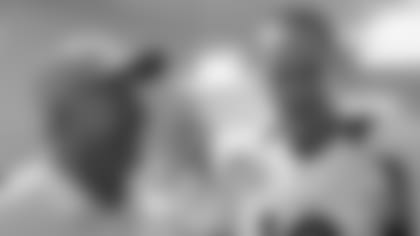 "The guy demands the best out of himself and that carries over to his teammates," Decker said. "He demands the best out of his teammates and everybody carries that same sensation. We want to be great, we want to not let our teammates down and that's, again, why we are where we are."
The defense has reaped the benefits of facing a future Hall of Famer as well.
Woodyard pointed to the challenge Manning presents every week in practice as one of the reasons the team has found so much success this season.
"If we come out here and we finally face him in practice, he'll embarrass us and that's something that we don't want to happen," Woodyard said. "So there's definitely a game-time situation every time we play him out here, and it has translated on Sundays."
Safety David Bruton noted that the defensive backs in particular have gotten better at disguising their coverages since Manning is known to diagnose defenses at the line of scrimmage.
"You hear stories about the leadership and his work ethic -- it's different seeing it," Bruton said. "Just hearing him make plays and checks, how loud and authoritative he is on the field, it's something to admire. Especially coming back from a neck injury and leading us to the playoffs with a first-round bye, it's something great."
The Broncos were the only team in the NFL in 2012 to finish the regular season with a top-5 offense and defense, and both sides of the ball have touted the importance of having No. 18 on the squad.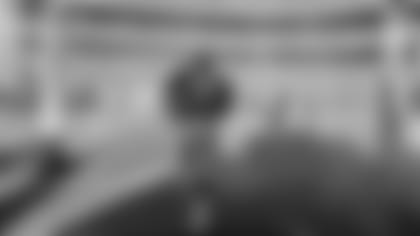 "It's a dream come true for those guys with Peyton being the quarterback," McCoy said. "They're all licking their chops at the opportunity to play with Peyton and the style of system we're playing right now."
The Broncos averaged more than 30 points per game and outscored their opponents 299-138 in the second half of games in 2012.
With Manning at the helm, Decker and Thomas became the club's first 1,000-yard receiving duo since Rod Smith and Ashley Lelie did so in 2004. Decker's receptions, receiving yards and touchdowns were all career highs.
Manning said his rapport with the receiving corps developed even more quickly than he thought it would. That helped Manning record 10 games with a passer rating of 100 or more, which set a franchise record.
For all those reasons, the consensus in the Broncos locker room has been that Manning deserves to take home his fifth league MVP award.
"You have to go with 18, the way he changed this team around," defensive tackle Kevin Vickerson said. "He took us to another whole level on this team. Not just on the offense. Defense, special teams, everybody's attention to detail goes up because you have somebody like that at the helm that wants the ball."
For Manning, being voted MVP is the least of his concerns. But if he were to win the award, it would be more of a representation of what the team has been able to accomplish this season.
"I really have not thought about that," he said. "It has been such a unique season for me personally, I really feel fortunate to be playing. I really have had an interesting year-and-a-half and so I am proud our team is in the mix. … I am glad to be in this situation where we have a chance to do something as a team. That is special."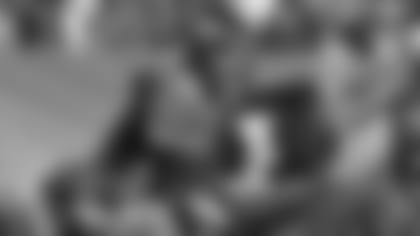 While Manning's injury seems further and further away with every win, the quarterback said certain things are harder for a 36-year-old coming off of a missed season. He has continued to rehab throughout the campaign, and admitted he's not the quarterback he once was.
But the quarterback he is now has been arguably the best player in the league in 2012.
"I know how hard this team has worked this year, and I know how hard I've worked and all the help I've gotten along the way," Manning said. "Some things were really kind of wait-and-see for me, but it's been a gratifying regular season and very humbling. I have to admit that."
"It is certainly more than I expected."
New Manning, old Manning, the Broncos don't care. They know whenever No. 18 is on the field, they've got a chance to get to where they want to be at the end the season.
"Great thing he's on our side for this playoff run," Bruton smiled.