ENGLEWOOD, Colo. -- **For a second consecutive day, Peyton Manning and many starters left following the individual period of practice to give younger players and backup veterans extra work. But that doesn't mean the Broncos on the top line of the depth chart can't get plenty from this week's minicamp.
"The reps that you do have, you try to make them quality ones," Manning said after a conditioning and weightlifting session that completed his work at Wednesday's minicamp practice.
"We're actually doing more intense lifting than the guys that are doing the team work," he added. "But we're out there for individual (periods), we're doing walk-throughs on blitzes. So I still feel like we're practicing, we're just doing some alternate things."
Those "alternate things" include focusing on his timing with tight end Owen Daniels and wide receiver Cody Latimer, the two top-tier players with whom Manning has the least on-field experience. Both took part in the Manning-organized Duke University throwing sessions in April, and their extra work continues through this week into the next.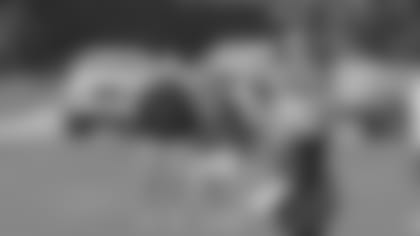 But the focus is on learning the changes to the offense -- about which he declined to share his impressions.
"What are we doing, June evaluations? There's got to be another story out there. I'm not doing June evaluations," Manning said. "Look, we're working right now, and I think, to me, if I said I liked it or didn't like it, it would mean that I thought my opinion mattered, which I don't. It's our job to execute the plays and to make it work.
"This is just part of the process," he added. "We're learning; I'm learning. But I'm committed and I'm all-in on trying to make any adjustments that I have to, (and) at the same time trying to do some of the things that I've done well, and hopefully keep doing those things well, and improve on things that I need to improve on."
And even at 39, there are areas in which Manning knows he can improve. Just don't use "older" to refer to him.
"Y'all keep using that word a lot. There's got to be a synonym out there," he said, suggesting a Twitter contest for a better synonym. "But I will say that I've talked to some players that have told me that they thought that they may have stopped playing just because they got bored with the monotony, whether it was the offense or the same meetings or what-not, that physically they felt pretty good, they just got bored and they got frustrated, and they said, 'I want to go do something else.'
"I think everybody likes continuity and some consistency in what you're doing, but I will say that at age 36 when I got here, now 39, I have been stimulated by the changes, which I do think keeps you engaged and energetic and focused in meetings."
The tweaked scheme ensures Manning anything but monotony.
"I'm going to tell you one thing I am not: I am not bored in the least bit," Manning said. "I am stimulated by studying. I feel like I'm engaged in trying to learn something new from Gary Kubiak [and] Rick Dennison and learn a little something new from Owen Daniels. Any time somebody has a question of me, I'm glad to answer that, about a route from Owen or James Casey. That's been the truth.
"Changes, instead of being stymied by any type of change, be stimulated by them. That's been true for me, and that's been a real positive, to tell you the truth."
The Broncos' offseason minicamp continued on Wednesday as the team had its second minicamp practice.