HOUSTON --The numbers don't reflect Peyton Manning's performance Saturday in his preseason debut.
On the surface, an 8-of-14, 52-yard night isn't going to seize any headlines, and four punts on the four possessions he led will frustrate him. But the offensive effort was pockmarked by mistakes from the first snap, when an attempted bubble screen was defused by Kareem Jackson, who burst through C.J. Anderson's block to limit Thomas' gain to 2 yards.
The first series ended on a dropped pass by Demaryius Thomas when rookie cornerback Kevin Johnson arrived just in time to force the incompletion. Another ended on a drop by James Casey in the left flat on third-and-1.
"I should have caught it," Thomas said of his drop. "It was in the numbers. But everything was on point. You just look forward to getting back and getting more repetitions at home."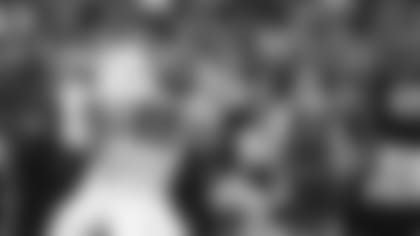 But before that happend, the Broncos had to get through what eventually was a 14-10 win over Houston. The drops weren't the only errors; two holding penalties against Owen Daniels and Virgil Green knocked the Broncos back into long-yardage situations, and an average drive-start position at the Denver 14-yard-line exacerbated the issues.
"Obviously you want to be able to overcome them when you're only going to play four possessions," Manning said. "It's hard to overcome them. Sometimes when you have a drop, a missed throw or a penalty – you overcome those either on that drive or the next drive and didn't really get a chance to overcome any of those but certainly those are things that you want to eliminate and I don't see those things being a constant for us this year. I think we'll do a good job in that category."
Taking the miscues into account, Head Coach Gary Kubiak wasn't concerned about his quarterback.
"I thought he was fine," Kubiak said on the TV broadcast. "We hurt him; we dropped two big third downs, and had a couple of penalties that stalled drives, but as far as him, he looked fine."
Manning came close to a long completion on his final pass, but his attempt to Thomas was too far and just outside, dropping the curtain on the night.
But the offense did have some bright moments with Manning at the controls, including an average of 5.8 yards per carry, an 11-yard third-and-10 completion to Daniels and a variety of paces. The Broncos opened in the no-huddle, but then slowed it down. Nine of their 19 snaps with Manning were in the shotgun; 10 were under center.
Manning looked effective at selling the play-action, and did a good job avoiding a back-side pass rush to find Thomas for an 11-yard gain halfway through the first quarter that moved the Broncos past midfield.
It wasn't perfect. But it was a solid first step.
"It's a new offense. It will take time, more repetitions, the better you get," Thomas said. "We need a little more repetition. Basically we're just doing our job as a group of guys on the offensive side of the ball.
"I've got confidence in everybody on this team on offense, so I think we'll be fine."