DENVER --All Peyton Manning can do now is go from week to week.
The 18-year veteran quarterback had his walking cast removed Tuesday night and replaced with a walking boot that will remain on his left foot until Friday.
"Everybody says, 'Is [the foot] better? Is it better?' The answer is, 'I don't know, because I'm not putting any pressure on it, and it's sort of immobilized,'" Manning said Wednesday in the Broncos' locker room.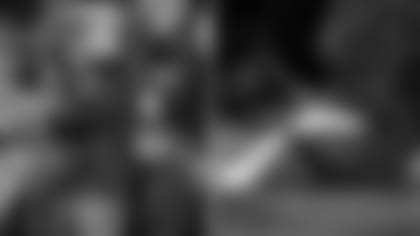 "The idea is for it to help toward the healing process, but there's no guarantee whatsoever. All the other questions and speculation, I don't have anything for you on that."
Manning will then resume rehabilitation work on Saturday, planning to proceed "one week at a time" as he tries to get back on the field. He did not yet know whether he would travel to San Diego with the team for Sunday's game.
"Some people try to get back. Some people try to get healthy. I'm trying to get healthy before I try to get back," Manning said.
Manning revealed that he had been dealing with at least "a form" of his plantar fascia injury "for quite some time" since he suffered the tear against the Indianapolis Colts on Nov. 8, although he declined to specify a particular moment for the onset of discomfort.
"I'd been having some symptoms that I've been dealing with," he said. "It's been going on for a little bit of time.
"Timelines and all that are kind of irrelevant," he added. "It bothers me now."
Manning indicated that there is "not a whole lot of difference" between the walking cast and the walking boot.
"I guess when you have a cast on, you don't have a choice whether to take it off. With a boot on, you have a choice," Manning said. "So I think it's sort of a matter of discipline whether you take it off or not."
Doctors initially suggested putting another walking cast on, but Manning took another option.
"They were going to put another cast back on, and I said, 'Is there another option besides putting the cast back on?' So I'm putting the boot on through Friday," Manning said. "It's pretty much the same thing. You can take it off to shower; that's probably the biggest difference."
Manning's consultation with Dr. Robert Anderson in Charlotte, N.C. on Nov. 23 led to the walking cast being placed on his foot.
"Everybody wants to know what he said. He said I have an injured foot. Everybody said, 'Well, when did he say it's going to get better?' When it heals," Manning said.
The quarterback also downplayed the perceived difference between a full plantar fascia tear and a partial one.
"I think it's kind of like being a little bit pregnant. Either you are or you aren't," Manning said. "He [Anderson] kind of says that you can call it a tear. I'm not smart enough to follow all the medical jargon, but he said the important part was torn, so he'd probably call it a full tear -- or a tear, I guess."
Manning said that he had "not really" given any thought to his future or the potential end of his career in the wake of the injury, despite rampant speculation on the subject.
"This is kind of when 'they' and 'sources' seem to show their heads a little bit," Manning said. "I've always wanted to meet 'they' and 'sources,' because both seem to know a lot. But I haven't thought much more than about trying to get healthy."
And that means he's not thinking about the status of the quarterback position and whether he or Brock Osweiler will play if he can fully recover from the foot injury.
"It's so far ahead of what I'm thinking about," Manning said. "I'm thinking about what [Head] Coach [Gary] Kubiak asked me to do is to try to get healthy, and I'm following his instructions.
"I'd love for it [the foot] to be healthy yesterday, I can assure you."
"Listen, like I told you guys [media] before, we're totally committed to getting our quarterback -- getting Peyton healthy and getting him back. Nothing has changed," Kubiak said at his press conference. "Nothing has changed with where we're headed this week. Brock is our starter this week, and we're all-in getting ready for San Diego. We are week-to-week and doing everything we can to win the next football game. Absolutely nothing has changed."
With a four-yard toss to RB Ronnie Hillman, QB Peyton Manning passed Brett Favre as the NFL's all-time leader in passing yardage. (All photos by AP Images)