ENGLEWOOD, Colo. -- **With a tweaked scheme, new coaches and new starters at six spots -- including four on the line -- there is an understandable curiosity about how the Broncos' offense will fare.
You can count the future Hall of Fame quarterback among those fascinated about seeing what transpires Sunday against the Baltimore Ravens.
"I'm looking forward to seeing how we're going to perform," Peyton Manning said after the Broncos concluded a two-hour practice Wednesday. "We've got some new guys playing, and some new things that we're doing, and I'm excited to see how we're going to do."
But how the offense starts the season -- and each game -- is not going to be the measure of where it stands. For a unit that will be in a transitory state, evolution and improvement are essential.
"I think I've said all along, the key for us is to improve throughout the season, throughout the course of a game," Manning said. "Baltimore [has] an excellent defense. You've got to dominate for four quarters -- I don't know if anybody's ever done that against Baltimore. Hopefully you can win enough plays and be efficient enough to where you can do well enough to win the football game.
"I think this game can be a lot like our season, just keep improving, being sound in the things that we're doing, and try to be on the same page."
Success and progress are symbiotic. If the Broncos do well in the win-loss ledger early, they'll build the confidence that allows the offense to continue its growth.
"I think everybody, including me, feels good going into the season, and we want to keep feeling good, and the best way to do that is to win," Manning said. "We want to win, but I think the key for us is to just keep improving throughout the season, whether it's me or all of our players, just to keep getting better.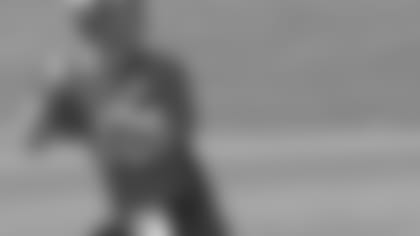 "We want to be playing well to start the season, but we want to improve and hopefully be playing even our best football late in the season. I think it's kind of a goal. But certainly, with our schedule, we've got two tough games in four days coming up here (against Baltimore and Kansas City). We need to get off to a good start because we're playing two really good teams to start the season."
One key task this week will be to get WR Emmanuel Sanders up to speed as he returns from a hamstring injury. Sanders practiced this week and his recovery has advanced to the point that he was not listed on the Broncos' official practice participation/injury report.
"I think the one thing that will be good will be just -- whether it's in practice or in the game -- to have his energy out there in the huddle," Manning said, "because he brings a lot more than just his speed and route-running; he brings an energy, he brings a competitive spirit that I think is kind of contagious amongst the other players on offense -- and really, the whole team as well."
Quarterback and wide receiver drills lead off our practice gallery as the Broncos continue preparation for Sunday's season opener against the Ravens.