ENGLEWOOD, Colo. --Peyton Manning and DeMarcus Ware will not travel to Chicago with their teammates this weekend so they can focus on their recovery from injuries that kept them out of practice all week.
"They said, 'You can go and sit out in the cold and just sit out there, or you can get two extra days of treatment to speed up your recovery.' That's what we're doing," Ware said after Friday's practice.
Ware will be sidelined for the third time in the last five games because of a back injury.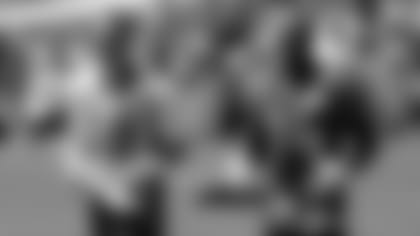 "We're just two guys trying to get better and keep each other supported," he said.
"You know how we are: we're very competitive, we want to go out there, we want to play, but you don't want to go out there at 80 percent, and at 100 percent, you are a different guy amongst all the guys who are out there playing, and you can make a bigger impact. So you've just got to think about it that way.
Manning was briefly on hand at Friday's practice, Head Coach Gary Kubiak said, but quickly returned to his rehabilitation from shoulder, rib-cage and foot injuries that will force him to miss a game for the first time as a Bronco.
Kubiak had said Monday that he wanted Manning's "total focus" to be on his rehabilitation.
"The plan was in place all week," Kubiak said after Friday's practice. "Me and Greek [Head Athletic Trainer Steve Antonopulous] talked last night. This had been the thought process all week: away from ball, away from meetings, focus on getting healthy. It's been that way with both of them. It hadn't changed. "
Ware did not play against the Chiefs after re-injuring his back late in the first half against the Colts on Nov. 8. Kubiak had hoped that Ware could see some on-field rehabilitation work during Friday's practice, but when the session began, Ware was not on the field.
"It's been going really [well]," Ware said. "It's a day-to-day thing, but improving every day, and trying to get ready for next week.
"The body heals as it heals," he added. "You've got to go through a process -- Phase 1, Phase 2, and Phase 3 before you can get out there on the field and play.
Manning's status will be re-evaluated Monday.