ENGLEWOOD, Colo. --When OTAs concluded, Head Coach Gary Kubiak said that veterans Mark Sanchez and Trevor Siemian were neck-and-neck, with Paxton Lynch behind them.
That status doesn't faze Lynch as training camp begins. In fact, it's what he expected.
"I knew those guys were going to be ahead of me just because of their experience -- Trevor, his experience in the offense and Mark, his experience in the league, [with] me being a rookie and this being the first time I've seen a playbook like that," Lynch said Tuesday.
"So I knew it was going to be tough, and I knew I was going to be behind. But the biggest thing for me is staying confident in myself, keeping my head up and [to] keep pushing through and grinding. It'll come too, eventually."
This doesn't mean that Lynch is conceding the starting job to Sanchez or Siemian; in fact, he thinks he has the opportunity to set himself up to "play right away -- or sooner than I had thought," he added.
"Obviously, as a competitor, you're not just going to say, 'Yeah, I'll take the back seat and do this," Lynch said. "But it's my job as a rookie to push those guys that are ahead of me however I can."
To do that, Lynch must first master the playbook. When he first arrived for rookie minicamp in May, he said the playbook was so thick, it "looked like a dictionary."
Nearly three months later, it doesn't appear as daunting.
"It's getting its way down there, but it's still pretty thick," Lynch said. "Going over the days we've already covered, it's easier to pick up on instead of having to stay at it and study it for hours [upon] hours. You kind of look at it and kind of remind yourself, 'Oh, this guy's got this.'
"It's not 100 percent, obviously, just because of the time I've been here," he added, "but I'm a lot more confident in myself knowing the plays and playing a little bit faster than when I first got here."
That progress in the playbook has helped him improve in the mental aspects of the game, particularly his work in the huddle. That was the area in which he felt he improved most during OTAs.
"When I first got here, it was kind of just thrown at me, and I was having trouble calling plays in the huddle," Lynch said. "Now I'm doing a lot better with that going out there."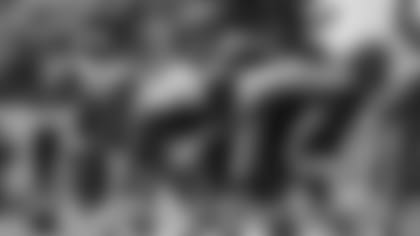 But he still has some ground to make up, just because of the adjustment involved with going from a spread, no-huddle, calls-from-the-sideline offense at Memphis to the more traditional style of the pros.
"It's getting there to the point where I'm comfortable in the huddle, but obviously I'm not to that point just yet," he said. "Being in the huddle is somewhat new to me, so when you've only been in the huddle a month, your'e not going to have it down like the back of your hand. But it's definitely coming to me, and I feel like I'm improving on it week to week."
Another point of emphasis during OTAs was footwork -- something that was also a key area for Siemian last summer.
"My footwork is where it needs to be," Lynch said. "I still have a while to go with that, but from where I came in to where I am now, I'm very pleased with my progress."
The progress did not stop when OTAs ended June 14, and Lynch stayed busy during the time off from organized work. He had throwing sessions with college and Broncos teammate Mose Frazier during a 10-day stay in Memphis with teammate Mose Frazier.
During the rest of the respite, he threw in Orlando with his brother -- who isn't exactly in Frazier's class as a route-runner.
"I had to spot him up," Lynch said with a smile.
But it was still work, and it still helped him get ready for training camp and the competition ahead.
Ahead of the start of training camp, Broncos rookies have reported to get back up to speed on the field before camp begins in earnest. (Photos by Ben Swanson)