ENGLEWOOD, Colo. --It takes multiple linebackers to provide the punch to the Patriots' run defense.
That notion should sound familiar to Broncos fans. Danny Trevathan and Brandon Marshall together fill the gaps left after the defensive line occupies blockers, and their ability to close holes helped the Broncos finish the season by allowing fewer yards per carry than any other defense.
New England runs a different scheme than the Broncos, and they use Dont'a Hightower, Rob Ninkovich and Jamie Collins in different ways, but to equal effect.
"[Hightower] is probably the bigger guy, but they're physical and Collins can run sideline to sideline. He's an every-down guy. He creates problems. It's what those guys do," said Broncos tight end Owen Daniels.
The Patriots' linebackers move around, shuffle between roles and keep an opposing offense off-balance with the multiple looks they will show from play to play.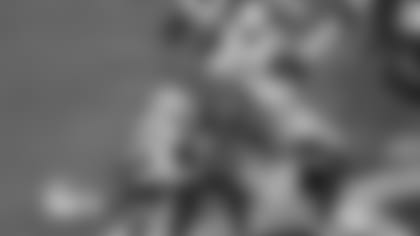 "They have so many smart players," said Head Coach Gary Kubiak. "They have guys play everywhere. When you practice to play this team, you can't say that this guy is the outside linebacker. They play everywhere.
"They're just very bright in what they do. You have to adjust and our players have to be on top of everything. It's really hard to cover everything when you play this football team. Our guys really have to be on top of all of the various looks that they'll get."
Take the first play of the Week 12 game as an example. The Patriots blow up the handoff to Ronnie Hillman because Ninkovich and Hightower crash at the same spot, overwhelming right tackle Michael Schofield. With no help on the right flank, the play is doomed at the start.
But the Patriots defense lost Hightower to an injury later that game, and the results were profound. With Hightower available, New England allowed just 43 yards on 15 carries -- a miserly 2.87-yard average that would have eventually forced the Broncos to abandon the run and become one-dimensional.
After Hightower left, the Broncos ran 17 times for 141 yards, good for a bulbous 8.29-yards-per-carry pace. Even when removing C.J. Anderson's 48-yard touchdown run in overtime from the tally, the Broncos still averaged a robust 5.5 yards per carry -- more than enough to justify staying on the ground and grinding out production that way.
Nevertheless, Anderson doesn't think much changed when Hightower left.
"They were still aggressive," Anderson said. "I said it the other day, they play more man-to-man than street ball. Y'all can go play football right now and guard each other. That's how they do it."
And they can do it in the pass rush, as well. Ninkovich will sometimes line up as a defensive end, while Hightower and Collins can move around and supplement the pass rush with blitzes through the A- and B-gaps.
"They cause a lot of problems because they're all versatile," Offensive Coordinator Rick Dennison. "They can do a lot of different things. They're all smart football players. You can tell that. They communicate very, very well. That's one of the biggest challenges."
Hightower is particularly dangerous on the blitz. ProFootballFocus.com rates Hightower as the league's best blitzing linebacker, citing his efficiency on pass rushes, getting 3.5 sacks, two quarterback hits and 18 hurries from his 116 pass rushes.
But all three can stuff the run and all can rush the passer.
"Obviously, they all can get to the quarterback and they don't have to bring them all to get there," said Dennison. "Part of the reason is that you really don't know who's coming because they're very versatile. It makes it a challenge, but the biggest part for us is communicating and making sure we're on the same page."