ENGLEWOOD, Colo.--It was apparent on the Patriots' third play from scrimmage last Saturday that Julian Edelman would provide a transformative element to New England's offense, when Edelman turned third-and-10 into an 11-yard gain and a first down by finding the soft spot between two defenders and turning for a pass that was released as he made his quick cut outside.
For the Patriots, this ensured that normal offensive service was re-established. Edelman caught a 13-yard pass on the next play, and the Patriots' offense was in full gallop, moving at its accustomed pace, back to where it was before Edelman succumbed to a foot injury at the end of the first quarter of its Week 10 win over the New York Giants.
"I feel like he brings the whole offense together," said Broncos cornerback Aqib Talib. "If you take him out, Tom [Brady] is missing that one guy in the middle, that one go-to guy in the middle, on the outside, the reverses, punt return. I feel like when he's there, they're a complete team this year. He makes them a complete team."
The impact of Edelman's absence in the second half of the season was profound, as the numbers reveal:
With Edelman:33.62
Without Edelman:21.17
With Edelman:3.27
Without Edelman:1.77
With Edelman, the Patriots have the league's most efficient offense. Without him, it was near the league average.
Based on those numbers, it was no surprise that the Patriots went 3-4 without Edelman after roaring to a 9-0 start with him in the lineup. The Broncos didn't have to deal with Edelman on Nov. 29, but they do now.
With Edelman in the lineup, the Patriots will likely make heavier use of three-wide receiver sets than they did at Sports Authority Field at Mile High in Week 12.
"They just go more spread," Broncos cornerback Chris Harris Jr. said. "They like to have those three receivers out. The first time that we played them, they went more two-tight end sets.
"We expect to definitely not see that much and definitely expect to see those receivers and see Brady spread the ball around a little bit more."
Edelman fits in the recent storied lineage of Patriots slot receivers.
"Brady has had a lot of good slot guys," Defensive Coordinator Wade Phillips said. "We've helped him have a lot of those guys, but Edelman sure fits in that mold. It is matchup problems, and those guys have always given people matchup problems. They've got another guy that's the same way. Edelman is hard to cover."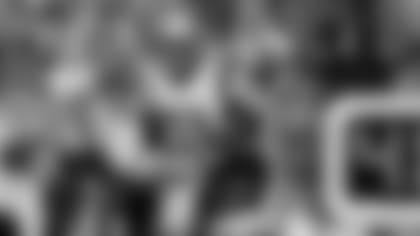 Edelman is also difficult to cover because of Brady's anticipation.
"Brady just seems to know where he's going to come out of his breaks," Harris said. "They run tons of option routes off my leverage, so if I play him outside, he'll go inside. They have a great chemistry together, so I would say just those two playing together for so long is really what separates them."
Harris knows how difficult Edelman is; until Antonio Brown's two touchdowns on Dec. 20, Edelman was the last man to score against Harris, during the Broncos-Patriots game of Nov. 24, 2013.
Now, after returning and restoring the Patriots' offense to its intended design, he's poised for more.
"He does a lot of work underneath and stuff, but he's so good after the catch," said Head Coach Gary Kubiak. "f you're not tackling well and doing those types of things with him, you're going to give up some big plays. He's been a special player.
"Last time we didn't see him, but we understand what we're facing with him."