HOUSTON --With 3:30 remaining in Super Bowl LI, the New England Patriots had turned the impossible into the manageable.
After trailing by 25 points in the third quarter and 19 points to begin the fourth, they had whittled Atlanta's seemingly unassailable lead down to just eight points. The fact that no team in the Super Bowl era had ever come back from a 17-point deficit to start the fourth quarter -- those teams were a tidy 0-for-120 before Sunday night -- didn't matter. Nor did their previous deficit.
All that Tom Brady and the Patriots knew was that they were on familiar ground. And no one watching realized that more than the Broncos and their fans.
With the Patriots facing 91 yards to go and an eight-point deficit near the end of regulation Sunday, immediately, the mind's eye pictured Sports Authority Field at Mile High on a chilly, breezy January afternoon just over a year ago, when the Patriots trailed by eight points and needed one final burst to force an overtime that few had thought possible.
Sunday night, the Patriots succeeded where they failed in Denver. After Brady's 16-yard, third-and-10 pass to Chris Hogan to begin what would be a game-tying drive, they never saw a third down again en route to a 34-28 overtme win.
Last year, Denver's defense found enough fuel in reserve for one final stop on a two-point conversion; Bradley Roby intercepted Brady, and the deed was done; the Broncos had their eighth AFC championship, and soon would have a Super Bowl 50 trophy.
That kind of moment eluded the Falcons because by the time they needed one final stop, their needle was well to the left of the slash.
"I think for sure we ran out of gas some," Falcons head coach Dan Quinn said.
With tired legs exacerbated by a dash of luck when Julian Edelman somehow snatched away the football for a 23-yard reception, Brady completed six consecutive passes -- including the two-point conversion that tied the score with 57 seconds remaining.
Brady would eventually connect on 11 consecutive throws into overtime before he fired incomplete to Martellus Bennett on first-and-goal. But by then, the Falcons' fate was sealed; overtime was academic. That was the 92nd offensive snap for the Patriots -- at that point, exactly twice as many as the Falcons' offense had. James White's game-ending 2-yard dash was the 93rd, a Super Bowl record.
It gave the Patriots their fifth world title in 16 seasons. Only the 49ers grabbed so many championships in a shorter span, but they did so in a different era; all but one of those titles came before the current interation of free agency.
As the confetti fell, sealing the 21st century Patriots' place in NFL history, it offered a chance to reflect on what happened a year earlier, when the Broncos knocked them off.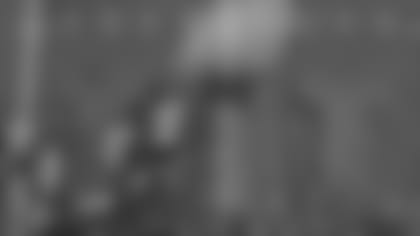 First, you look at last year's AFC Championship for a comparison. The Falcons mimicked the Broncos' defensive game plan, rarely blitzing, trusting their base front four to provide enough pass rush to disrupt Brady's timing. For most of Sunday's game, this worked -- just like it worked for the Broncos last year.
With the aid of timely big plays, both the Broncos and Falcons burst to a multi-score lead. Each team caught a break from a misfire on a Stephen Gostkowski extra-point attempt. And then in each case, Brady started dropping perfectly placed passes into narrow windows, defusing the effectiveness of the pass rush.
Under a heavy rush, Brady found Hogan on third-and-10 in double coverage Sunday, and as I blinked I saw Brady dropping an unfathomable pass to Rob Gronkowski near the north end zone at Sports Authority Field last year.
The Falcons' fate Sunday might have been the Broncos' destiny last year if one final burst of pressure on a two-point conversion had not led to the deflected flutterball that Roby intercepted.
Then there is the Patriots' overall success -- which, despite everything, must be praised as historic, particularly given the elements of the sport that prevent the sort of continuity that built NFL dynasties for most of the league's 97-season history.
In their 16-season run with Brady and head coach Bill Belichick, New England has lost just nine playoff games. The Broncos are responsible for three of those -- two with Peyton Manning, who led his teams to three postseason wins over the Patriots overall -- and one with Jake Plummer at the helm, a Jan. 14, 2006 triumph which snapped New England's NFL-record 10-game postseason winning streak.
If you imagine a world without the Broncos -- and we hope you wouldn't, but please indulge me in this mental exercise -- then you imagine a world where the Patriots' single biggest roadblock and the one franchise that has been able to grapple with them on equal terms for most of the 21st century didn't exist.
The Broncos have something no one else has against the Patriots since 2001, the year Brady became New England's starter -- a winning record, at 9-8.
But the Broncos weren't here Sunday. New England's comeback -- and the run of play in its 16-3 mauling of the Broncos two months ago -- is a reminder of just how far Denver has to go to be back to this stage. But the Falcons' success with pressure provided a reminder that if anyone can surge and provide a roadblock to the Patriots' pursuit of more history in 2017, it is the Broncos, who with a few moves in free agency and the draft will have the chance to continue being the only persistent, enduring threat to New England's continued dominance.
Nothing is impossible -- not a comeback from 25 points down in the third quarter, and not beating the Patriots. No one knows that better than the Broncos.
And once again in 2017, their hopes of a title could rest on turning what most see as impossible into reality -- dethroning the team that has won two of the last three Super Bowls.