DENVER --As Broncos officials, Ring of Famers, Broncos alumni and members of the 1997 world championship team looked on with pride, Annabel Bowlen and the rest of the Bowlen family pulled back a blue drape to reveal the pillar honoring Pat Bowlen at Ring of Fame Plaza on Friday night.
The unveiling kicked off a weekend of ceremonies to honor Bowlen's induction as the 28th member of the Ring of Fame.
"It means the world to me, to be honest with you," said Steve Atwater, a Ring of Fame inductee in 2005 and member of the Super Bowl XXXII-winning team. "He's a gentleman who is definitely more deserving than anybody to have his face and body embodied up there in the Ring of Fame.
"As you know, he's a great owner. I think that he's the best owner in the NFL. He means the world to me, personally. I couldn't be happier for him."
Bowlen's pillar sits at the far west end of the plaza, and flanks the one erected last year to honor head coach Dan Reeves, who manned the sidelines from 1981-92.
"Tonight, it's Pat's turn to be recognized for his achievements during his 32 seasons as owner of the Denver Broncos," team President/CEO Joe Ellis said to open a dinner that followed the unveiling.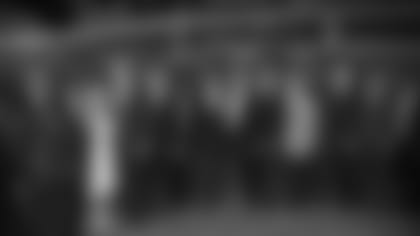 Eighteen Ring of Famers were on hand for Friday's festivities: Atwater, Reeves, RB Terrell Davis, QB John Elway, LB Randy Gradishar, DE Rich "Tombstone" Jackson, LB Tom Jackson, RB Floyd Little, LB Karl Mecklenburg, WR/RB/KR/PR/K Gene Mingo, QB Craig Morton, TE Shannon Sharpe, S Dennis Smith, WR Rod Smith, DB Billy Thompson, K Jim Turner, CB Louis Wright and OT Gary Zimmerman.
"To my husband, there is no one more important than the players and coaches who have made this franchise what it has become today," said Annabel Bowlen, who spoke at the dinner following the screening of a video that honored Bowlen's career and induction.
Her husband was responsible for launching the Ring of Fame, announcing its creation shortly after purchasing the franchise in 1984.
"From the day he became the owner, Pat had the utmost respect for the Broncos alumni and the proud tradition of the team," Annabel Bowlen said.
"There is not a more fitting guy going into the Ring of Fame than the guy that started it," added Executive Vice President/General Manager John Elway. "It's a great night for Pat. Unfortunately, he's not here, but we'll be able to celebrate what he's done and the great things he's done for the Denver Broncos, as well as this community." And as was the case last year when Bowlen's statue in the plaza was unveiled, the sentiment that Bowlen's next honor should be induction into the Pro Football Hall of Fame flowed strong.
"I think, when you look at his accomplishments, I don't think that there's any doubt that he certainly belongs there," Tom Jackson said.
"Quite frankly, there's a lot of politics that goes on with the Hall of Fame -- at least there can [be]. I'm hoping that does not happen when it comes to the fantastic ownership that he's had."
"Congratulations, Pat," Annabel Bowlen said toward the end of her speech. "Next stop, Canton, Ohio!"
The pillar honoring Owner Pat Bowlen in Ring of Fame Plaza was unveiled at a sunset ceremony Oct. 30.