ENGLEWOOD, Colo. -- **Past and present came together at the Broncos' walk-through practice Saturday when members of the 1997 team that won Super Bowl XXXII watched their successors finish their preparations for Sunday's showdown with the Green Bay Packers.
Standouts such as Byron Chamberlain, Jason Elam, Bill Romanowski, Rod Smith, Alfred Williams, Gary Zimmerman, stood on the sidelines and watched the practice. Three Ring of Famers who played in other eras joined them: Tom Jackson, Floyd Little and Billy Thompson.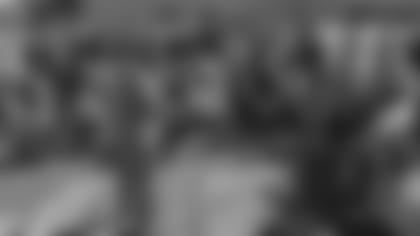 After the session, one player spoke for each team. Smith talked on behalf of the 1997 Broncos; safety David Bruton Jr., a team captain who is the longest-tenured Bronco on the 53-man roster, spoke for the current team.
"You're 6-0 and you ain't even playing good!" Smith said to howls of laughter from Broncos past and present. "Wait until you start playing good!"
But Smith also shared a message of togetherness, encouraging players to bond with each other personally, rather than via social media.
"We root for you guys every single week," Smith said. "Our heart is here every single week."
Williams closed the practice with a breakdown that his 1997 teammates knew by heart.
"It was just like yesterday," said Elam. "It was exactly like I remember it! We did that every single day for a couple of years straight. He hasn't lost it."
And it didn't take long before the present-day Broncos followed and joined in.
Now the Broncos and their fans hope that's a metaphor as the current team tries to follow the path taken by the club's first Lombardi Trophy-winning team.
Members of the 1997 Broncos and a handful of Ring of Famers watched the current Broncos practice on Oct. 31.