ENGLEWOOD, Colo. -- **The Broncos represent a perfect fit for tight end Owen Daniels for several reasons, starting with the presence of Head Coach Gary Kubiak, under whom Daniels has played his entire NFL career to date: eight seasons in Houston and one in Baltimore, where Kubiak was offensive coordinator.
But the allure of catching passes from Peyton Manning also had an impact. And building the necessary timing and chemistry with the NFL's all-time leader in touchdown passes will take repetition and study.
That process begins this month, when Daniels joins Manning and other Broncos pass-catching targets for the annual throwing sessions Manning leads at Duke University, where his college offensive coordinator, David Cutcliffe, now serves as head coach.
Manning was quick to bring Emmanuel Sanders to Duke after the wide receiver signed his three-year contract last year, and his invitation to Daniels was equally prompt.
"[I'm] looking forward to getting a head start to work with him [to[ see what he's all about," Daniels said. "He's the only [teammate] I've spoken to and I'm looking forward to meeting all the other guys, for sure."
Each should be able to help the other.
The Broncos' offensive playbook is expected to meld concepts used by the team since Manning's arrival with nomenclature and elements from the offenses Kubiak guided in Houston, Baltimore and, for 11 seasons before those stops, Denver.
"I think this offseason will be a little bit different mentally for me," Daniels said. "I'll be learning a little bit [about] what Peyton does and the words that he likes to use and his terminology, so a little mash up of [Kubiak] and what Peyton does.
"I'll be studying probably a little more than I have in the past, which is a good thing."
At the individually-organized sessions at Duke, Daniels will focus on route-running and timing. When the Broncos' offseason program begins, he can turn to the playbook while continuing to hone the non-contact aspects of his game.
Once the Broncos move into later phases of organized team activities, Daniels will focus on blocking in addition to route-running. He credits a former Texans teammate, close friend and ex-Bronco Joel Dreessen, with helping him develop as a blocker.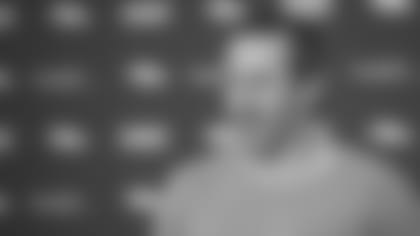 "He kind of set the standard there when we were in Houston. I always kind of felt he was a better blocker than I was and I wanted to be as good as he was at that," Daniels said. "We pushed each other that way."
As is the case in many offenses, the tight end must handle a fluid role in Kubiak's scheme, moving from the base position outside of the offensive tackle, to H-back, the slot, outside and in the backfield.
"It demands a lot. So it's challenging, but a lot of fun, too, because you can do a whole bunch of different stuff," Daniels said. "ou can line up in a bunch of different spots on the field, really everywhere, and they always look for consistency. So you've got to be able to block or at least be willing to do that. You've got to.
"I think the biggest thing is be on your game mentally. It's a very detailed offense in terms of what we do -- landmarks and being in the right spot at the right time versus the right coverage. I've learned from a very smart football mind these last nine years, and looking forward to learn more and looking forward to learn from No. 18 (Manning), as well."
A career look-back at new Broncos tight end Owen Daniels. (All photos by The Associated Press)