ENGLEWOOD, Colo. --The Broncos' last two organized team activities this week were not open to the media, but there were some notes that emerged from the on-field work as the first week of Phase 3 concluded.
1. BRADLEY ROBY WILL GET SOME WORK AT SAFETY.
It has not happened yet, but Defensive Coordinator Wade Phillips plans to put the long-discussed notion of giving him some repetitions at safety into action over the next several practices.
"We have a package coming in where he'll play some safety, and we'll work that in probably in the next couple of weeks," said Phillips.
But Roby's core competency remains his work at cornerback. With Aqib Talib having an excused absence Friday, Roby saw extra work with the first team. He intercepted a pass against the No. 1 offense and returned it for a touchdown.
"He really had a super day at corner," Phillips said.
"He's pretty proficient at cornerback, so I'm pleased with that," he added later. "And that's what we wanted, to make sure he could play that position and be really good at that, and then if we play three corners in any kind of nickel package, we've got three corners that can play, and if we need to move him into a certain package, we will, and we'll do that later on."
DARIAN STEWART IS WITH THE FIRST TEAM.**
"It's probably his job to lose," Phillips concurred. "He's there right now as the first-team guy, so he's got to prove he can play."
There are other possibilities at the position, and Phillips said that converted former cornerback Omar Bolden has "done well" so far. Bolden said that he has worked at both safety spots this week.
"I'm just getting a better feel for it and getting comfortable," Bolden said.
LOOK FOR VON MILLER TO ATTACK.**
"We're going to let him rush," Phillips said of the Pro Bowl strong-side outside linebacker. Not every strong-side linebacker in a 3-4 alignment emphasizes the edge rush, but Phillips knows that's what Miller does best.
This is Phillips' 39th season coaching defense in the NFL, dating back to when he worked for his father, O.A. "Bum" Phillips, as the Houston Oilers' defensive-line coach in 1976. Significantly for game-planning purposes, the 2015 season is Phillips' 34th as a defensive coordinator or a head coach, so he's seen every type of player at every position. That helps him scheme to his talent; the concepts he hasn't put into a game plan at some point can fit into a thimble.
"It's not what I can think of -- I can think of a lot of defenses -- but it's what our players do best," Phillips said, "and that's what we're going to try to do."
Among his pupils is Hall of Fame linebacker Rickey Jackson, who played under him from 1981-85 with the Saints. Working from the strong side, Jackson racked up 39.5 sacks over 57 games from 1982-85 (sacks weren't an official statistic in 1981), setting him on course to Canton.
But Jackson isn't the only strong-side outside linebacker who offers a template for how Phillips will use Miller.
"Bryce Paup was NFL Defensive player of the Year (with Buffalo in 1995) and, had 17(.5) sacks. Shawne Merriman had 17 sacks in 12 games (with San Diego in 2006). It's a position that if a guy can rush, you can match up well. That's why we've kept [Miller] there. You'd think he'd be a will (weakside) linebacker who rushes almost every play, but you can rush the 'sam' linebacker, too, so that's what we'll do."
LOTS OF OPTIONS ON RETURNS.**
Bolden is a proven commodity on kickoff returns, and was one of the league's leaders after seizing the job; he believes he has the inside track on the position.
"I'm going to go on and say that is my job," Bolden said. "I want it and I want it bad."
But on punt returns, the field is wide open, including the Broncos' leader in punt returns last year (Isaiah Burse), the expected punt returner in the 2014 preseason (Jordan Norwood, before he tore his anterior cruciate ligament in practice) and others.
"Kyle Williams is a young man that we signed (on a future contract). We just picked up Soloman Patton. Omar's catching punts back there and then Emmanuel Sanders was back there today catching punts," said Special Teams Coordinator Joe DeCamillis. "You've got a stable of guys that we'll work from with and see how the competition works out."
Bolden's punt-return work as a pro is limited to three returns for 15 yards in the 2013 preseason.
"I'm just trying to help this team in any way possible. If time calls for it for me to return some punts, I want to be ready. So, I'm just trying to practice and get better at doing that as well."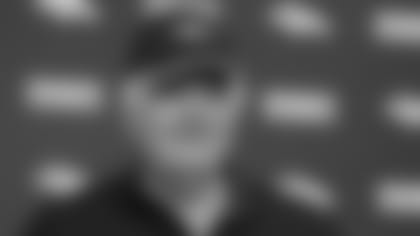 5. THERE'S PLENTY OF ROTATION ON THE DEFENSIVE LINE.
It comes as no surprise that Sylvester Williams has been anchoring the line at nose tackle, but Phillips and Defensive Line Coach Bill Kollar have shuffled the rest of the linemen around, with Vance Walker among the defensive ends to see some snaps at nose tackle.
"We've alternated most of the other guys if they can play nose or 3-technique, and some of them can play 5-technique," Phillips said.
With Antonio Smith excused from work this week, Walker, Jackson, Derek Wolfe and others have been busy as Phillips and Kollar adjust the defensive line and experiment with combinations to build as many effective line trios as possible.
"Bill Kollar is going to get the most out of every player -- he's done that throughout his career," Phillips said. "We know about J.J. Watt (in Houston), but there's a lot of other players that he's coached that have gotten better and better, and I've seen this group get better and better already."
6. BEN GARLAND'S OPPORTUNITY.
Just as Ty Sambrailo will get the chance to show his potential during OTAs, so will Ben Garland, the converted defensive lineman who is part of the rotation at left guard.
At every position on the offensive line, the Broncos have an experienced option; at left guard, it's March pickup Shelley Smith. But the Broncos' coaches have a better idea of what Smith is from his time in Miami and St. Louis, and his 2010-11 work with Houston in practice (he didn't take a regular-season snap. They don't have the same knowledge and film on Garland, and now is the time to learn.
"His footwork -- he'ss getting better and cleaning that up. He's talking to the guy next to him on both sides," Offensive Coordinator Rick Dennison said. "Those are the things that we need to work on, and that's all we can work on right now."
Added Louis Vasquez: "He's smart. This early in OTAs, everybody including myself, we all have things that we need to work on. But Ben's been a hell of a player so far and he's real smart and has picked up the offense pretty well."
But with Ryan Clady's torn ACL shaking up left tackle, can the Broncos afford to have an inexperienced left guard who didn't take up offensive line until 2013? That's a relevant question, but building that experience is why the Broncos will take long looks at all of their young offensive linemen at various points during OTAs.
THE COMPETITION AT INSIDE LINEBACKER.**
Given the 3-4 alignment of the Broncos' defense and the potential use of linebackers on special teams, you can expect plenty of linebackers on the 53-man roster the team carries into Week 1. Which ones they are will depend in part on how the inside linebackers fare on the practice field with extra repetitions while Danny Trevathan and Brandon Marshall recover from their injuries.
Phillips praised Marshall, Trevathan and outside linebacker Shane Ray for their study habits and their ability to help teammates even while they watch practice from the sideline while recovering from their injuries.
"The inside (line)backers, I think, are doing a good job for us," Phillips said. "There's a lot of competition in there, which is good. I think we've got some talented young guys that have a pretty good feel.
"We've still got a ways to go. There are a lot of calls in there and different things that they have to do—more so than the outside backers—but I think they're coming along well."
Along with returning 2014 draft picks Lamin Barrow and Corey Nelson, the Broncos have late-season starters Steven Johnson and Todd Davis are working side-by-side, just as they did after Marshall and Trevathan were injured at San Diego on Dec. 14.
Johnson's three seasons in the locker room makes him more of a known commodity than Davis, who has turned at least one head -- that of his on-field neighbor.
"Todd has a great work ethic," said Johnson. "Whenever we go in the weight room or something like that, when I want to get lazy, I just look at Todd, you know what I mean? Because Todd's always working. He reminds me of myself when I was a rookie and I always pick out a guy each and every offseason that likes to work hard. Last year was L.J. Fort, so me and him were always going at it. And this year it's Todd.
"It's just all about competing and making each other better. So big ups to Todd, he's doing a great job out there, learning the playbook and stuff like that, and we're going to continue to compete."