ENGLEWOOD, Colo. --Broncos fans didn't get to see a whole lot of quarterback Brock Osweiler, who played only 33 snaps during the 2012 season.
The rookie appeared in five games, and didn't drop back to pass until the Broncos' season finale against Kansas City. He completed 2-of-4 passes for 12 yards in that game, with both of his completions going for first downs.
Head Coach John Fox was asked whether Osweiler is still considered the quarterback of the future.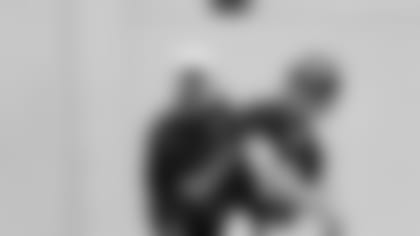 "I believe so," he said. "Brock didn't get as many game situations. I think that's a positive thing (that he didn't have to). When he did, I thought he did well. You get evaluated on how you perform on Sundays or Mondays, whenever they line you up. I thought he grew. I like his temperament. I feel really positive about Brock Osweiler."
Osweiler closed out five of Denver's wins with kneeldowns, giving him the fewest rushing yards of any position player in the NFL in 2012. He kneeled down eight times for negative 13 yards on the season.
While fans did not get to see much of the second-round draft pick out of Arizona State University during the season, the coaches watched him progress every day at practice.
"I feel like he made a lot of strides this year," said Offensive Coordinator Adam Gase, who was the Broncos' quarterbacks coach last season. "He really prepared as though he was going in the next snap and he really went out of his way to make sure that when we talked about things, his release point, the way he dropped, his balance as a passer, his progressions, he really pushed himself to do those things right."
Osweiler worked his way up the depth chart to be Manning's backup after a preseason in which he completed 16-of-34 passes for 139 yards with one touchdown and one interception.
Denver drafted the signal caller with the 57th overall choice in the 2012 draft with the idea of grooming him as the successor to quarterback Peyton Manning.
"He made progress," Elway said. "We got a chance to know what he is as a guy and person, and how he is on the practice field and he fit well in this building. He fit in really well with his teammates and working with Peyton. I'm thrilled with his progress so far."