Quarterback Brock Osweiler has spent his three years in Denver watching and learning from the unquestioned future Hall-of-Fame quarterback Peyton Manning
But while it might be difficult for Osweiler to sit back and spend these years learning the ropes from Manning, he isn't taking any of the wisdom and experience he's gained for granted.
"I'd be lying to you if I said it hasn't been tough to not play over the past three years," Osweiler said Tuesday on Yahoo! Sports Radio, "but the one thing I do know is… that I'm going to work on a daily basis with one of the greatest quarterbacks to ever play the game and I guess I really just want to make the most of that situation."
Osweiler has remained patient these past years spending his time improving his football IQ while also mentally preparing for each game like he's the starter because he'll never know when he's needed. Just last season, Osweiler had to step in for Manning during a divisional game at San Diego for a series to finish the first half.
"I think in this league you consistently need to be getting better on a daily basis and when you're around a guy like Peyton you're able to do that because you're constantly learning so much," Osweiler said. "So, that was one way I was able to stay patient but then at the same time every single week I prepare like I'm going to be playing because at any point in time in this league the starter can go down. …My head's been in the game as though I was the guy."
Osweiler isn't the first (and won't be the last) quarterback in the league to apprentice behind an outstanding starting quarterback. Packers quarterback Aaron Rodgers spent time behind the legendary signal caller Brett Favre for three seasons before getting his shot under center.
"I'm a firm believer that every player is great in his own way," Osweiler said of the comparison to Rodgers. "Aaron, I believe, sat for about three full years before he got his first real opportunity. Obviously we have similar situations… but once again you always have to prepare like you're one play away because that's the truth in the NFL."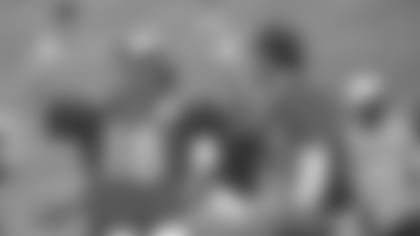 Besides studying the X's and O's under Manning, Osweiler says what he's learned under the veteran quarterback isn't something that you can study in the film room.
"The one thing that I really have taken away from him and I probably hold dearest is how to be a professional on a daily basis," Osweiler said. "Whether that's on the football field, off the football field as far as maybe a charity event goes, in the classroom and just being an overall leader… Peyton really showed me how to be a professional in this league."
The professionalism that Osweiler says he models after Manning hasn't gone unnoticed by his teammates and Head Coach Gary Kubiak this offseason.
"We're very committed to Brock and his progress as a player," Kubiak said in May. "He's been excellent in his work patterns and the way he goes about his business. He's got a bright future."