OAKLAND --A timely blitz ... again.
A game-winning or -saving takeaway in the final half of the fourth quarter ... again.
It's almost as though the defense knows what's coming, as though their end-game penchant for game-transforming takeaways is written in some predestined script.
"We know somebody is going to make a play," safety T.J. Ward said moments after Sunday's 16-10 win over the Raiders. "We're just racing to be the first one. That's what happens when you've got a lot of guys out there itching to make a play."
Even as Denver's offense continues its struggle to find its footing, the Broncos have a formula that continues to work and allow them to get by: a furious defense that believes it has as much right to the football as the opposing offense.
That belief bore itself out twice in the second half: on Von Miller's strip-sack of Derek Carr in which he seized the ball from the Oakland quarterback's grasp, and finally, Chris Harris Jr.'s 74-yard pick six for the touchdown that doomed the Raiders to their eighth consecutive loss in the series.
Two of the Broncos' wins this season have come by exactly six points: their first and most recent. Their only touchdowns in both came on interception returns.
"We've won two football games without scoring an offensive touchdown. That doesn't happen in the National Football League," Head Coach Gary Kubiak said. "So they've been tremendous."
And if that's what it takes, so be it. Every win goes in the bank, and will be necessary in an AFC race that has seen perennial playoff participants Denver, New England and Cincinnati all race to 5-0 starts.
But that won't be enough for the long term -- especially against foes like those and another undefeated team, the Green Bay Packers, that all loom on a slate that grows more demanding in the weeks ahead.
"We've got to play a [heck] of a lot better," Kubiak said. "I mean, it starts with me and the offensive coaches. We've got to get better offensively."
Defense has carried teams to championships -- or at least held them up long enough to sustain contention until the offense finds a working rhythm.
That's what's happened for the Broncos. There may come a point where the offense can carry the defense, and to win a title, that ability will be essential.
But despite the disparity between the top-ranked defense and an offense near the foot of the table in multiple metrics, the Broncos remain undefeated.
"They gave up some plays in the first half," Kubiak said. "[In] the second half they were awesome."
And at no point in the second half was the defense more awesome than on Harris' interception, a play set up by a six-man pass rush that forced Derek Carr into a hurried throw that sailed behind intended receiver Seth Roberts and into the grasp of Harris.
"Coach [Wade Phillips] called an all-out blitz, zero coverage," he said. "My man ran a crossing route, and I just broke on him."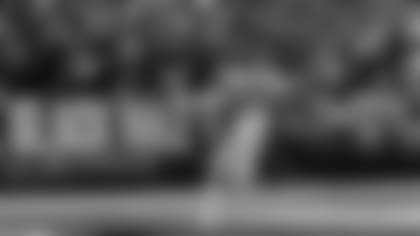 Kubiak said Harris had "three or four" interceptions in practice this week, setting the stage for his interception. He read Carr's eyes and reacted to the throw, ending his break, grab and jaunt with the Broncos' third defensive touchdown this season -- all by cornerbacks: himself, Aqib Talib and Bradley Roby.
"Everybody's itching to make that play. It just happened to be my day today," Harris said. "Next week, it will be somebody else. You never know who it's going to be. But we've got a team full of playmakers on defense, and if we've got to win on D, we feel like we can do it."
This time, they did it through injuries. Aqib Talib nursed a sore ankle that was injured when another player rolled up on it, but managed to return. DeMarcus Ware departed early via cart because his back tightened up.
But reserves stepped forward. OLB Shaquil Barrett had a sack and four tackles -- including one for a loss -- in his most extensive work as a pro to date. CB Kayvon Webster stepped in as the No. 3 cornerback with Roby moving up to the top line and responded with tight coverage downfield that prevented a deep reception up the right sideline.
The names change. The tactics are tweaked; in Sunday's game, the Broncos made extensive use of Roby at safety, started Derek Wolfe at one defensive end spot and rotated Todd Davis and Corey Nelson in at inside linebacker, while using a handful of 3-5 looks.
But through five games, the template is established: when the Broncos need a game-sealing takeaway, the defense delivers.
"Another great job defensively in finding a way to win," Kubiak said.
And just how great is that job? Consider this fact:
Yes, that's all-time -- at least since sacks became an official statistic in 1982. Through five games, Denver's defense is extraordinary -- and so far, it's been enough.
In the second half of play in O.co Coliseum the Broncos have fought back to beat the Raiders, 16-10.