SEATTLE --After sitting out last season due to an injured elbow, defensive end Kenny Anunike made the most of his return to the field in the Broncos' preseason opener in Seattle Friday evening at CenturyLink Field.
With a team-leading eight tackles -- six of them solo stops -- and a sack for a loss of nine yards, Anunike was a force to reckoned with in Denver's 22-20 win over the Seahawks.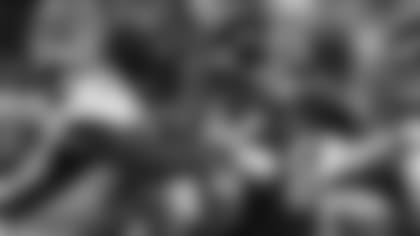 "It's an amazing feeling," Anunike said of his return. "You know, I've just been chomping at the bit because I had an early exit last year in the last preseason game. But I used that time wholeheartedly just to get myself back ready. I was still immersed in the game, learning what it means to truly be a professional in this league and I think I did everything right. I just got out there today and I was so hungry."
Anunike and the Broncos' defense flourished under the new direction of Head Coach Gary Kubiak, Defensive Coordinator Wade Phillips and Defensive Line Coach Bill Kollar. As a team, the defense racked-up seven sacks on the day for a loss of 38 yards. The Seahawks' defense collected two sacks as a unit.
"Oh we really were man just going out there flying around," Anunike said. "Just using all the techniques that Coach Kollar taught us ... and Coach Wade Phillips. Just using it to get after that quarterback and be a menace in the backfield."
Combined with standout pass rusher Shaquil Barrett and a stout Denver defense, the Seahawks were held to 181 total offensive yards (89 yards rushing, 92 yards passing).
"It's amazing. It just shows you the amount of depth that we have on this team," Anunike said of the defense. "Even Coach Kubiak said that this is one of the deepest teams that he's had. You know, so it's going to be some tough decisions that are going to have to be made so you just want to be on the positive side of that."
Anunike attributes the defense's success on Friday partly to the new system that Phillips has put in place in Denver. Last season, the Broncos worked with a 4-3 scheme and this season they're lining up more at a 3-4.
"I thinks its just a whole lot better system," Annunike said. "It allows you to have a lot more playmakers so we're just out there having fun, getting after the quarterback."
While each player fights for a roster spot, they'll have another opportunity to showcase their talents when the Broncos travel to Houston to take on the Texans next Saturday at 6 p.m. MDT.
Take a look at the first half snapshots from the Broncos first preseason game in Seattle.