ENGLEWOOD, Colo. -- **With the entire starting "No Fly Zone" and a few other veterans receiving the day off from drills, the rest of the Broncos had a spirited practice Wednesday morning.
Notes from the two-hour session follow:
... Red-zone play was the emphasis in the seven-on-seven and team periods.
"Right now, we're getting to the special situations," Offensive Coordinator Rick Dennison said. "We did some red-zone [work] today. We'll talk about goal-line, short yardage and those types of things. We're working our way through it."
Dennison said that the team will have gone through every special situation by the time OTAs conclude June 16.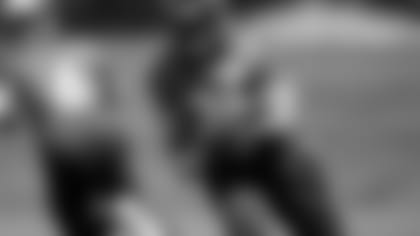 ... RBs C.J. Anderson and Ronnie Hillman both look more comfortable in the offense than they did last year, and each is doing a better job of hitting the holes and capitalizing on them when they form.
Two of Anderson's best runs Wednesday came late in practice. On the first one, Anderson read the blocking and exploded to daylight created by Max Garcia and Michael Schofield on the left side.
Seven snaps later, Anderson took a shotgun handoff from Siemian and saw a seam created by Garcia and James Ferentz. He burst through it for what would have been a substantial gain in game conditions.
... It's not all smiles and sunshine for rookie quarterback Paxton Lynch, but each day brings tangible signs of progress, especially in his decision-making.
One such moment came during the team period, when he quickly went through his progressions while looking to the left. Out of the corner of his eye, he saw tight end Manasseh Garner breaking open on a crossing route. Lynch located Garner open underneath for the completion, and earned praise from Head Coach Gary Kubiak for his decision.
... Lynch also did a good job of throwing as he moved outside during the seven-on-seven period.
After hesitating because of tight coverage, Lynch moved to the left and waited for former college teammate Mose Frazier to streak open. Lynch found Frazier, but the play ended in an incompletion when Frazier failed to get both feet down inbounds.
... With both starting safeties getting a breather, Shiloh Keo practiced extensively and intercepted a pass, stepping in front of a Trevor Siemian toss to Garrett Graham in the right flat.
... CB Kayvon Webster also had a solid day with the top cornerbacks taking a rest day. During the even-on-seven period, he read a quick Siemian-to-Cody Latimer slant perfectly and jumped it to break up the pass near the goal line. On the next play, Webster didn't bite on Siemian's pump fake to the left and stayed with Webster long enough to break up an attempted pass to Latimer.
... Rookie safety Will Parks had one of the best plays of the day, diving for an interception on a Lynch pass intended for Graham during the seven-on-seven period.
... Graham did have some good moments, including a leaping touchdown in the back of the end zone on a pass from Siemian during the seven-on-seven period.
... Vance Walker has shown the same burst in the pass rush as he did last year, and he broke past Garcia on the first play of the team period with an inside move that would have ended in a sack of Siemian in a game situation.
... After Wednesday's practice, Brandon Marshall said, "Don't sleep on Corey Nelson," and plays like the one he made early in the team period are why. Nelson read a developing sweep perfectly and raced in to close the gap, leaving Anderson nowhere to run.
... Darius Kilgo saw plenty of work with Sylvester Williams getting a breather, and had some solid moments in the pass rush, including one play where he used a twist to get into the backfield and force Mark Sanchez into an incompletion.
… OLBs Shane Ray and Shaquil Barrett also had a good day generating pressure from the edge. The two continue to receive plenty of first-team repetitions with Von Miller and DeMarcus Ware not practicing.
... Rookie WR Khalif Raymond does a good job catching the ball with his hands, and not his body. He also has outstanding concentration, which helped him make a late-practice grab from Lynch. After using a precise cut to break outside and shake free from his defender, Raymond dove for the pass and bobbled it before bringing it in and controlling it with his hands as his body hit the ground for a 10-yard gain on a third-and-4 situation.
Raymond made another diving catch from Lynch two plays later. But perhaps what is most impressive about him is his body control as he goes low; on one return play earlier in practice, he made his cut outside and went low while maintaining his balance and speed.
... Riley Dixon got plenty of punts, and uncorked a long blast that had a 4.60-second hang time during his work Wednesday.
... CB John Tidwell returned to practice on a full basis after taking a spill on a jump ball late in Tuesday's session. Tidwell was treated on the field Tuesday after the fall.
... As was the case during one practice last week, Kubiak gave some key veterans off. The collection of players given rest days included cornerbacks Aqib Talib and Chris Harris Jr., safeties Darian Stewart and T.J. Ward, wide receivers Emmanuel Sanders and Demaryius Thomas and Williams and Derek Wolfe on the defensive line.