INDIANAPOLIS --Notes and quotes as offensive linemen, specialists and running backs came through the club level lounge at Lucas Oil Stadium to meed with media on the first full day of the 2016 NFL Scouting Combine:
The promotional machine of Arkansas football had an eruption of fun with offensive tackle's Sebastian Tretola's touchdown pass on a fake field goal against UAB in 2014.
"A couple of teams asked about that," he said, smiling. "Obviously, they ask can you play center. Then I let them know that whoever their quarterback is, the cannon is ready, just in case."
The more you can do, the more valuable you are. But what will help Tretola's stock more is his weight loss -- from 350 pounds down to the 314 at which he measured at the Combine.
"Yeah, 350 would have been fine, but that's it. I would have been just a fine player. I wanted to be the best I could be, and I had to lose that extra 20, 25 pounds to do it, so I did it.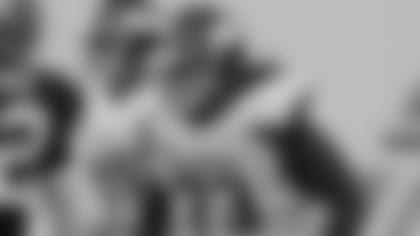 "I do everything faster. I run faster. I can pull faster. Everything is just quicker now. That makes [teams'] eyes light up, when they see the weight is dropping down. That was definitely a thing in the interviews, telling me that I look so much smoother on film as opposed to when I was heavier."
And it helps if he has to drop back and throw, too.
Cole Toner: The (future) candidate
At Harvard, you're more likely to become a U.S. Senator than a long-term NFL player. Toner, a standout offensive tackle for the Crimson, could do both.
Having studied government, Toner is considering a career in politics once he's done pursuing his NFL ambitions.
A view of the candidates vying for President might compel the Indiana native to run for office.
"City Council comes first. President is a tough job. Seeing the people in this election, it might be something I'm called to do," said Toner, who admits he "leans conservative a little bit" in his political leanings.
"I might have won the battle last night [the Nevada caucuses] if I was in there," he quipped.
The Broncos' Super Bowl 50 win placed zone blocking back in the spotlight. While there are significant differences between the offenses more common in college and the scheme the Broncos run, there are common principles that ease the transition for a potential lineman.
LSU guard Vadal Alexander, a likely second-day pick, quickly saw the parallels.
"Watching the zone, we run it pretty much like any other NFL team runs it," said Alexander. "So I'm very familiar with it, and when I see it I know what guys are looking for and how they're supposed to run it."
Kansas State guard Cody Whitehair projects as a late-first-round pick, and although he hasn't talked with the Broncos, his footwork and experience make him a fit for a zone-based scheme.
"I think I can fit in there," Whitehair said. "Coming from Kansas State and running the zone -- they run the zone as well -- I feel like I can fit in there. Like I said, I haven't really talked to them much. Looking forward to seeing what the next couple of days bring."