ENGLEWOOD, Colo. --Just as Brock Osweiler has been for the last three and a half seasons, Trevor Siemian now stands one play away from taking the snaps for the Broncos.
The seventh-round pick's preparation to this point has involved running the scout team. But that puts him against the league's No. 1 defense in yardage allowed per game and per play on a daily basis.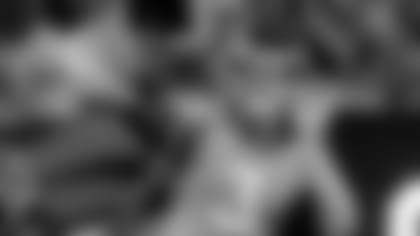 For every rookie, the biggest adjustment to the NFL involves getting accustomed to the speed of the game. If he can handle the speed of the Broncos' defense -- which is perhaps the fastest in the league -- he should be ready for game action.
"I'm lucky I get to go against the best defense in the league every week," he said. "I think it's given me an opportunity to go against obviously a really fast defense and get myself ready that way."
Although Peyton Manning's absence will cause a shift in the distribution of repetitions, Siemian expects that his practice workload won't look that different.
"Not a whole lot is going to change for me. I might get a couple of more reps [in practice]," Siemian said.
The biggest change will come Sunday, when he suits up for the first time in the regular season after being inactive for the last nine games. He'll be in familiar territory for the occasion; Siemian played his college football at Northwestern, just a 12-mile ride north on the Purple Line of the 'L' train from downtown Chicago.
"I really haven't thought about it too much, to be honest with you," he said. "We're just trying to get win No. 8."
SANDERS ON THE MEND: **There were never any questions about Emmanuel Sanders' toughness, but his ability to press through injuries has hit near superhuman proportions after he played 23 snaps despite injuring his ankle last week.
Sanders emerged from Sunday's loss with another injury: to his finger. He's played through shoulder and ankle injuries the last four weeks, and also was evaluated for a possible concussion following a hit Sunday, although he was cleared to return and was soon back standing on the Broncos' sideline.
Despite the injuries, Kubiak expects Sanders to have a "normal week" of preparation.
"He's just another guy kind of beat up and everything, but I would expect him to have a normal week this week. It looks like he's headed in that direction," Kubiak said.