ENGLEWOOD, Colo. -- **A week ago, the red-zone offense was the epicenter of an earthquake of offensive frustration.
That remains an issue after three forays inside the Cleveland 20-yard-line resulted in nine points during Sunday's win. But after a third consecutive multi-interception game for Peyton Manning, giveaways are the more pressing priority.
Remarkably, the Broncos remain tied atop the league in turnover margin, with a plus-six figure through six weeks. For this, they can thank their defense, which has a league-leading 17 takeaways, including three in Sunday's win at Cleveland and seven in the past three games.
But the Broncos cannot count on an averaging 2.83 takeaways per game. Their next five opponents average 1.21 giveaways per game, starting with the Packers, who have committed just four turnovers in their 6-0 start. To maintain an advantage, the Broncos must curb their generosity, starting with a league-leading 10 interceptions thrown by Manning.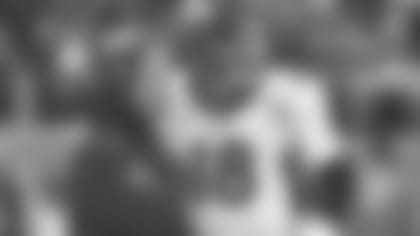 "There's no skating around the fact that we're turning the football over too much," Head Coach Gary Kubiak said. "He and I have got to get that improved, and we will. It's important for our team."
Most of Manning's seven interceptions in recent weeks are on short to intermediate passes, including all three Sunday. A pair of dropped passes by Demaryius Thomas did not help the offense's cause, but those weren't as potentially damaging as the giveaways, one of which was returned for a touchdown by Karlos Dansby.
Only aggressive defense prevented the Browns from converting the other two interceptions into points.
"He [Manning] has got some decisions I know he'd like to have back," Kubiak said. "When you're the quarterback, you're the guy pulling the trigger all the time.
"And we know we have to improve in the turnover department, and as a coach, you always look at it and say, ''OK, were we doing something on that route maybe that I shouldn't be asking him to do?' Those types of things."
And Kubiak knows that a quarterback of Manning's stature will try to make those plays, because he's succeeded in those spots since time immemorial.
"I think that's his nature. He tries to make every play because he's so smart and has done it for so many years," Kubiak said. "Sometimes you call a route and they [the defense] have got the perfect coverage for it. Those are things you've got to work through."
But coaching is also a factor, Kubiak added.
"It's also me having him in comfortable routes that he has ripped and done from a continuous standpoint," he said. "Like I continue to say, that's how I look at myself -- to make sure I'm putting him in as many comfortable situations as I can."
And above all, Kubiak knows that whatever he calls on offense must work for Manning, his skill set and his strengths at this point in his career.
"First off, I'm going to do what I think is best for the quarterback. I would never do anything that I don't think is best for the quarterback," he said. "So that's my plan every day I go to work.
"We improved. We did a lot of good things yesterday. We moved the ball. We need to continue to make that improvement. We had two 100-yard receivers. We had a 100-yard rusher. Those are good things. Those are positive things. We need to protect the ball better, and between he and I, we've got to do a better job of that."
The Browns' rushing defense is the league's worst through six games in yardage allowed per game, so there won't be a great deal of celebration over the performance of the ground game. But it did put together a solid series of runs in overtime -- six consecutive carries for 27 yards -- that propelled the Broncos into field-goal range.
It was the kind of downhill running and blocking the Broncos have wanted to see since the start of OTAs. When combined with the performance in pass protection -- no sacks and just two hits of Manning allowed -- the result was the finest performance by the offensive line to date this year.
"I think that's the best we've played this year up front," Kubiak said. "I saw vast improvement."
The head coach continued to shuffle his offensive line, using Tyler Polumbus in place of Ryan Harris for six snaps at left tackle and rookie Max Garcia for Evan Mathis on 15 plays at left guard.
Kubiak said he "liked what he saw" from Garcia, whose play allowed Mathis some needed rest after struggling with a hamstring injury in recent weeks.
"I didn't think it would help me, because I thought that [because] it was kind of cold there, I thought my hamstring might be cooled down and not be warmed up," Mathis said. "I took 15 reps off, and it went a long way for me, because I was able to come back and finish very strong."
AND DON'T FORGET ABOUT JEFF HEUERMAN:**
The third-round pick seemed poised to have a significant role in the offense before tearing his anterior cruciate ligament on the second day of rookie camp, which led to a subsequent shuffle of tight ends behind Owen Daniels and Virgil Green that continued to this past week, when Richard Gordon was signed, released and then re-signed in a six-day span.
Those changes might not have been necessary if Heuerman had been available. How much is he missed?
"A great deal," Kubiak said. "I love running tight end-type offenses -- two-tights, three-tights and those type of things. How we're build right now is a lot different, so we're having to adjust to that.
"... He would have been nice to have. Future-wise, that will be a good thing."