ENGLEWOOD, Colo. --OLB DeMarcus Ware's status will remain "day-to-day" after a recurrence of the back spasms that sidelined him for most of the Week 5 win at Oakland and all of the following game at Cleveland in October.
"Basically the information I know up until now is that it's basically a lot like the situation he had a few weeks ago," Head Coach Gary Kubiak said. "He's being evaluated. We'll see."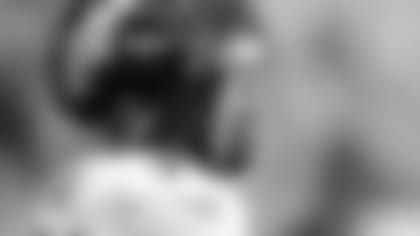 Ware played 30 snaps in the first half of Sunday's loss at Indianapolis and finished with the Broncos' only sack in the game, which came with 1:53 remaining in the first half.
"Basically he's had a setback similar to what he had before, but they don't think there's any further damage," Kubiak said. "We've got to see how he comes out of it here over the next couple of days."
Shaquil Barrett filled in for Ware, with Lerentee McCray also seeing additional work.
SUCCEEDING DESPITE GIVEAWAYS:**
Teams that rank among the league leaders in giveaways -- and lead the league in interceptions with 13 at midseason -- don't usually sit at 7-1.
The league's top-ranked defense in yardage allowed per game and per play has helped make that happen, and the Broncos still have a plus-3 turnover margin for the season. But on Sunday, the defense couldn't generate any takeaways, and two interceptions off Manning led to a touchdown and the six-minute drive that clinched the game in the final moments.
"There are a lot of great things going on, but the room for improvement is big in my opinion," Kubiak said. "I just told the offense, 'We've won seven games and we haven't played a turnover-free football game.' That's hard to do. We can improve dramatically there."
How remarkable is the Broncos' start despite their giveaways? Consider this: the Broncos are the first team since the 1982 Raiders to start 7-1 despite throwing at least 12 interceptions and having a negative touchdown-to-interception margin (the Broncos are minus-4).
One-hundred and fifty teams had at least 12 interceptions and a negative TD-to-INT margin after eight weeks between 1983 and 2014. Their average record is 2.56 wins and 5.44 losses.
Just 11 of them even had winning records, most recently the 2010 Chicago Bears, who were 5-3 en route to an NFC Championship Game appearance.