ENGLEWOOD, Colo. --Monday morning, practice hits another level. Full pads go on. Contact goes up.
No one is looking forward to this moment more than fullback/tight end Joe Don Duncan.
This was supposed to happen somewhere last year. And it was supposed to happen after a team drafted him. Despite playing at Division II Dixie State, NFL scouts had found him. Invitations to the Senior Bowl and the East-West Shrine Game to prove his worth against plenty of elite prospects, mostly from the major FBS conferences, were extended.
Then he broke his foot as his college career ended. He went undrafted -- and then unsigned in the post-draft free-agent market, with no nibble beyond a tryout. He worked to rehabilitate his foot, then signed with the Broncos this past March 11.
Duncan's dream was delayed. But it was never derailed. His foot is now in "great" condition, he said this weekend.
"People ask me all the time, 'How's the foot?' 'How's the pain?' I kind of almost forget about it," he said. "It doesn't bug me at all anymore. No repercussions. 100 percent healthy."
And on Monday morning, he can do something he hasn't done since November 2013: play competitive, to-the-whistle football.
"It's a double-edged sword. I'm getting a little bit of rust off, at the same time, I haven't played a game for two years, so I'm kind of amped up and ready to go," he said.
The nature of his new position only adds to his energy about going into full-contact mode. Since the Broncos returned for organized workouts in April, he's been learning how to play fullback, which he said he's never handled before.
"As a fullback, it's tough to block when you don't have pads on. These linebackers get their hands on you because you can't really go into them," Duncan said. "Once you put the pads on, hopefully you can open up some holes easier, and go from there."
This is Duncan's first true chance for him to use his 270-pound frame to his advantage. And there's no softness to his size; Duncan is a piece of iron.
Even after breaking his foot, Duncan's invitation to the Scouting Combine stood. He went to Indianapolis, interviewed with teams and showed his upper-body strength with 35 bench-press repetitions.
That wasn't simply the most of any tight end at the 2014 Combine; according to nflcombineresults.com, it is the most for any tight end since 1999, matched only by current Saints tight end Orson Charles at the 2012 Combine.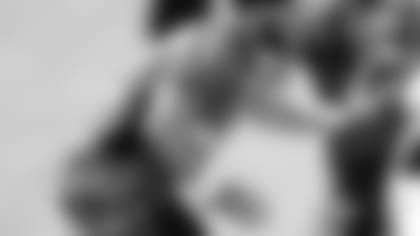 That prodigious strength is why the Broncos saw him as much as a fullback as a tight end. Even though he earned a reputation at Dixie State for making athletic catches in traffic and demonstrating outstanding body control, for now most of his work will involve being the first man through the hole and looking for someone to block.
The simplicity of that job description belies the complicated nature of playing fullback. It's why many of the best blocking fullbacks in the NFL of the last 20 years had their best seasons in their 30s. It's why offseason free-agent pickup James Casey believes he's just now mastering the position; like Duncan, he had to learn it after flourishing as a college tight end.
"A lot of stuff is recognition -- what defense they're running, what front are they in, which gap am I entering in, tight zone? wide zone? All that kind of stuff," Duncan said.
"When you first come here, it's a blur, but as you keep going, it gets clearer and clearer, and then you can open up from my responsibility to what the rest of the offense is doing, and kind of understand the scheme instead of just what you're doing, and that makes your job a whole lot easier, too. It's kind of just go up, see the defense and just do your job from there."
The wisdom of Running Backs Coach Eric Studesville has helped. But Casey has aided even more, having taken the path Duncan wants to forge.
"James has easily been my biggest mentor since I've been here -- a huge help," Duncan said. I'm in here with him every morning talking about the offense and what do you here, what do you do there, what if you get this look, all that stuff. He's been nothing but helpful. He doesn't hesitate at all to answer my question.
"We're good friends off the field, and we're going to continue that and come out here and compete and try to make each other better. But he's been extremely helpful."
And Casey has helped Duncan already begin making an impression with his physical play -- even when the Broncos were only in shoulder pads and shorts Sunday.
"He hit somebody in the mouth today," running back C.J. Anderson said. "So we're happy about that."
That's a tangible sign of progress -- and a welcome one for Duncan, who took the arduous route to the NFL.
"I've still got a long way to go, but I've progressed so much since I've been here," he said. "Hopefully I can keep progressing and work as hard as I can to help this team out."
Day 3 of training camp was highlighted by Peyton Manning and Demaryius Thomas running routes with two kids and a visit from Mayor Hancock. (All photos by Eric Lars Bakke)