ENGLEWOOD, Colo. --In one respect, the Broncos ended Sunday where they began: in possession of the No. 6 seed in the AFC playoffs.
But the Broncos lost their margin for error, and face a daunting closing stretch in which their offense must find consistency and its defense must become more stout against the run if the team is to extend its franchise-record streak of postseason appearances to six.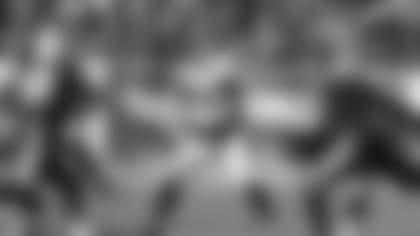 Ever since Head Coach Gary Kubiak said that Trevor Siemian needed to play "big," heading into the Week 11 bye he's posted some of the biggest numbers of his brief career, notching a 106.1 quarterback rating on 55-of-85 passing for 702 yards with four touchdowns and no interceptions.
He's accomplished those numbers under steady pressure and with an inconsistent running game; Denver's running backs have averaged just 2.83 yards per carry in Siemian's last two starts.
But they've both ended in losses.
"I'm proud of Trevor coming back and battling through his injury and being there for his team [Sunday]. Trevor's numbers are excellent, but it's about winning. This game is about winning," Kubiak said.
"His numbers were big in the game, but he's got to step up and make some of those plays at the end. We can make some of those plays for him at the end. So for him to continue to grow for this football team, he needs to play really, really well for our football team here down the stretch."
That starts with generating some more sustained drives early in games. Five of the seven drives in the first quarter of Siemian's last two starts ended without a single first down.
"[More] snaps is the biggest thing," Kubiak said, pointing to how a series of short Broncos possessions and lengthy Titans ones led to the offense running just 24 plays in the first half.
"You've got to get snaps to have things happen. We went and found snaps in the second half; we made plays [and] moved the ball," Kubiak said. "But you've also got to make plays that win games, that close those games, and we've got four or five plays to make -- a couple on his behalf, a couple on the receivers' behalf -- that close the football game, and you find a way to win. So those are the plays we've got to go make."
SLOW STARTS: THE DEVIL IS IN THE "DETAILS"**
The raw numbers tell the overarching tale of the Broncos' early-game struggles; with just 23 first-quarter points, they're on pace for just 28 this season, which would be 13 fewer than their previous record-low total for a 16-game season. Their minus-47 first-quarter scoring margin is the league's third-worst. That puts them on pace for a minus-58 season-long first-quarter margin; it would be the Broncos' worst in 52 years.
"It's really frustrating," Kubiak said.
But the numbers don't answer the most pertinent question: Why?
Kubiak noted execution and details as reasons for the litany of slow starts, but it's not a matter of simply snapping the fingers and fixing it; the issues in those areas change on a weekly basis.
"First off, I don't just say, 'We got off to a slow start.' I go look at what we're doing," Kubiak said. "So I'm sitting there watching nine plays offensively. We missed a pass protection. We had a couple of busts. We put a ball on the ground. So when you're doing that, you're not going to be successful."
Sunday, the primary culprits involved a missed blitz pickup by Devontae Booker on a third-and-1 play on the first possession, a rare lost fumble by running back Justin Forsett on the second series and poor second-down play overall; the Broncos averaged 8.25 yards on their first-down plays in the first quarter, but amassed just 2.5 yards per second-down play, with nine of their 10 second-down yards coming on a play that ended in Forsett's lost fumble.
"It's not about the plays. It's about execution, it's about detail, it's about some of those things," Kubiak said. "When you have to ask yourself, 'Well, why? Why is the detail not there early in the game?' That's what what we're trying to do -- trying to find out, trying to figure it out."
It's urgent that the Broncos figure it out; New England is the league's best first-quarter team, with a league-best 94 first-quarter points giving them a plus-65 scoring margin that also paces the NFL.
NEW ENGLAND STARTS A BRUISING END TO THE REGULAR SEASON**
Heading into Monday night, the Broncos' three remaining foes were a combined 30-8 -- giving Denver by far the toughest remaining slate in the NFL.
If the Broncos make the postseason after navigating through such a Himalayan stretch -- and if they win all three games, they are in the playoffs, no matter what -- they will clearly have earned it.
"It's December in the NFL. You've either got a chance, or you don't, and we definitely still [have] got a chance right now. We're going to prepare like we've got a chance to get in the tournament," cornerback Aqib Talib said.
If current form holds for the Patriots, Chiefs and Raiders, the Broncos will be the 39th team to face three playoff-bound teams in their final three games of the season since the schedule was expanded to 16 games in 1978. This would also mark the first time in Broncos history that they closed their regular-season schedule against three teams headed for the playoffs.
Fourteen of those 38 previous teams made the playoffs. Three of them went a perfect 3-0 against such a rigorous closing trifecta, including two teams that rode their momentum into the postseason: the 1986 San Francisco 49ers and the 1998 New York Jets.
"If we're going to do something, we've got to be great, right?" Talib said. "Let's be great."
Added Kubiak: "We're going to have to play exceptional here, especially starting this week."
KUBIAK WILL BRING THE HARRY DOUGLAS HIT UP TO THE NFL**
"Obviously I disagree with the play," Kubiak said of the hit that saw Douglas lunge at the right knee of Chris Harris Jr. in the second quarter Sunday. "I'll take my opinion to the league and deal with it from that standpoint."
Douglas' hit went unpenalized, and is technically legal, but was unnecessary given the flow of the play, which led to Talib going after Douglas one play later and the emptying of both benches.
"There is an unwritten law in this game that you don't try to take someone's livelihood, especially when he doesn't have any impact on the play at that point," said defensive end Derek Wolfe. "That's like the quarterback throwing the ball and it's an incomplete pass and I hit him anyways. That's kind of the same thing.
"I'm really disappointed in the fact that people would even consider that being OK. It's one thing if he hits him and knocks him on the ground. It's another when he tries to take his knee out. He is trying to take him out of the game and that's so clear when you watch it on film. How can that be OK? How is that OK to try and take someone's livelihood?"
KUBIAK WANTS "SMART" REACTIONS**
Although Kubiak appreciated the esprit de corps behind Talib's reaction after Douglas hit Harris low, he reminded the cornerback of the importance of being "smart" in that scenario.
"We've got a strong team. We've got each other's back -- you'd better have each other's back in this business in what we do," Kubiak said. "But you've also got to be smart. You can't hurt your team. So that's what I told our players. That's what I told Aqib. He understands that. We can't put ourselves in a position where we're hurting what's going on on the field."
Kubiak had a similar reminder for wide receiver Emmanuel Sanders after his fourth-quarter touchdown reception drew a 15-yard penalty that was assessed on the ensuing kickoff.
"He's wrong. He knows that," Kubiak said. "I know you can spike the ball and throw the ball or whatever, but you can't choreograph something. It's my understanding he choreographed pitching the baseball or something, so you can't do it. You can't hurt your team. We're in a one-score game; he knows that."
Here's how you saw the Broncos' Week 14 matchup vs. the Titans.