HOUSTON --Brandon Marshall knows that he will have to play through pain this year. The two screws inserted in his foot to aid in recovery from April surgery will not be removed until after the season.
But each day, each game, he continues to heal. Each time he straps on his helmet, he focuses a little bit more on playing, and a little bit less on his foot.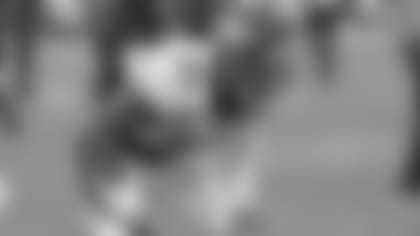 "I just decided to get out there and not think about it," he said after the 14-10 win over the Texans at NRG Stadium. "You can't really get out there and think about what potentially might happen, or what could happen and how you used to feel. You've got to get out there and play. If you're going to be out there, you've got to have a one-track mind."
And although he did a good job filling the gaps to help stop the run Saturday, the best sign of progress was his movement in the open field, where he broke up a team-leading two passes in one quarter of work.
The first time Marshall got a hand on the football, he forced a third-and-5 incompletion that ended the Texans' first drive. At that point, Marshall felt like celebrating. After eight months defined by foot problems, from his injury Dec. 14 to a stalled recovery to surgery in April, he was back.
"It felt great," he said. "I had a good read on it, and all my coverages, I was on them [Saturday], so I'm trying to get back to my old ways."
Marshall lost his entire offseason of work to rehabilitation. He did not start running until the last week of June, a week after OTAs concluded. In nearly two months since then, he's worked his way up to a full practice workload, and played the entire first quarter before his night was done.
Marshall believes he's "pretty close" to being all the way back. But he wants more.
"I don't want to be the same as I was last year; I'm aiming to be better," he said. "But obviously it's kind of tough to be better coming off surgery. I felt good today. I think I read the ball well, I read the plays well, so I think I'm right there. Just a couple of more steps away, and I'll be fine."
NO HAMSTRING ISSUES FOR CHRIS HARRIS JR.**
As with Marshall, Harris played the first quarter and then stepped aside while the rest of the defensive starters played into the second quarter. A hamstring injury sidelined him last week, but he gradually ramped up to a full practice workload this past week.
"I felt like I could have played a little bit more, but it's the coaches' call," Harris said. "It's good to have them be able to hold me out sometimes, because I definitely won't hold myself out."
It's not just the competitive juices in Harris that spur his insatiable itch to play. It's the ceiling of the defense, which has allowed just one offensive touchdown in two games -- and that was in the fourth quarter at Seattle on Aug. 14.
Harris has seen enough to know that the defense's ceiling is the highest one possible.
"Definitely No. 1, that's the main thing we're focusing on and doing whatever we can do to get better each week," he said. "Every week Coach Wade [Phillips] is throwing in something new for us -- little scheme adjustments that we have to make. I think guys are picking them up fast, and that's a good sign."
DEMARYIUS THOMAS GETS UP TO SPEED:**
Thomas isn't all the way back, but he drew a few steps closer by starting and playing 17 snaps against the Texans.
"I'm getting there. I'm probably about 90 [percent]," he said. "That's with conditioning and on the playbook, but for the most part, I know everything on the offense, and I'm basically just going out and executing."
It wasn't the best night for Thomas, who caught three passes for 24 yards, second among starters behind TE Owen Daniels in both categories. He dropped a third-down pass under pressure from rookie cornerback Kevin Johnson that he felt he should have caught.
"It was in the numbers," Thomas said. "But everything was on point. You just look forward to getting back and getting more repetitions at home."
PASS-RUSH PUNCH FROM THE INSIDE:**
Through two games, the Broncos' sack rate of one every 6.75 pass plays leads the league. That success isn't possible with edge rushers alone; it takes interior linemen, and nose tackles Sylvester Williams and Darius Kilgo had a big night with a sack apiece.
Williams was not actually aligned as a nose tackle on his second-quarter sack; the Broncos had two down linemen, and Williams was working at the three-technique.
Kilgo started his sack working on the nose, but when Reggie Walker blitzed through the A-gap, center James Ferentz picked him up. Kilgo attacked left guard Greg Mancz and pushed him back eight yards into QB Tom Savage.
"Man, he's a strong individual and when I saw him pushing the pocket, I knew he had a chance because we had good edge pressure," Williams said. "So it was kind of a mixture of all four guys just pushing the pocket and then having the nose guard with the bull rushes able to get the sack on the one Kil[go] had. He's a strong guy so I wasn't surprised to see him get the sack."