DENVER --Montee Ball ached for opportunities and pined for room to roam. During Thursday's 22-20 loss to the Arizona Cardinals, the third-year running back only got one of the two.
Ball was limited to 27 yards on 16 carries as he spent most of his night trying to fight through defenders that poured into the backfield.
"I could have been better. It's tough in the fourth preseason game, because you've got a mixture of everybody in there, you've got a mixture of speed, tempo and all that stuff," Ball said. "I could have done something out there.
"But I talked to my running backs coach [Eric Studesville] and he told me to keep my head up. He said, 'You put it all out there today.'"
Added Head Coach Gary Kubiak: "Obviously, the numbers aren't good, but we didn't run the ball a lick in the game. I've got to look at the big picture. I would say [from] me watching the game, I don't know how many fair opportunities he had."
A testament to the degree at which Ball fended off tacklers in the backfield is that Ball finished the game with more yardage after contact (29 yards) than total rushing yardage (27).
"The runs weren't really there," Ball said. "I worked with what I had."
"I thought I was the only one that [noticed]," Ball said with a weary smile. "Because I always feel like I can do something, [that] I can make a play happen. That's what I felt I should have done out there. But it was tough for me out there.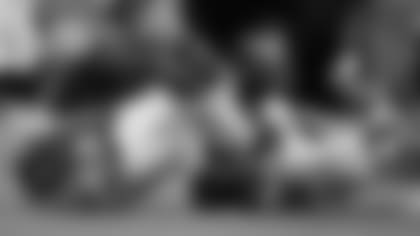 "I'm never, ever going to point the finger, because as a playmaker, I feel like I should make something happen," he added later. "That's what I kept telling myself when it was three-and-out, that I should have made something happen."
Kapri Bibbs had a bit more room. Only once was he met at the line of scrimmage, when he ran through an arm tackle attempt on an 8-yard run in the third quarter. Bibbs finished the game with 12 yards after contact, bolstered by that jaunt through the arm tackle, which provided two-thirds of those yards.
Ball's task now is simple.
"Just keep pushing," he said. "I'm a big believer -- a big, big believer, me and my family [that] God has a plan, and if it's not here, it'll be somewhere else. I hope it's here, though."