ENGLEWOOD, Colo. —Avery Becker belted out Johnny Cash in the back of a shiny, red Bentley SUV.
He was on his way to his senior prom, a high-school rite of passage.* *
But Avery's not your average 18-year-old, and his prom group wasn't filled with soon-to-be high school graduates. Rather, his core group of friends on this night included two Broncos players and a couple of Bachelors.
How's that for a prom night?
---
Avery suffers from two rare diseases -- so rare that Children's Colorado Hospital had never seen a case quite like his. He's spent a majority of his life in hospitals, including a nine-month stretch last year that held him back a year in school. As such, his closest friends are his doctors and nurses that he interacts with every day as he receives his transfusions, all of which are experimental since there's no known cure for Avery's disease.
As his senior year winded down — his final year in school since his treatments will prevent him from attending college — Avery focused on only one thing: attending his senior prom. He almost went last year, but he went into septic shock the night before the big dance.
This year was going to be different. He got the hard part — finding a date — out of the way first. Ashlyn Goding said yes, and Avery could breathe a big sigh of relief. But he had asked her without really considering all the details. Who were they going to go with? What was he going to wear? Where would they go to dinner?
"Avery's never dated, even holding a girl's hand is a huge thing," Avery's mom, Pam Becker, said. "He had built prom up as this huge ordeal. He literally redid his senior year partially because of prom. Now all of sudden he found himself with no friends and no one to go with."
As the nerves began to intensify for both Becker and Avery, his mom decided to take care of the things she could control. She took Avery to the Park Meadows mall to pick out a suit. As they were leaving, they ran into ABC's "The Bachelor" star JJ Lane, who had met them previously on a visit to Children's.
When Lane found out that Avery was headed to prom but had no group of friends to go with, he took control. He called his Bachelor friends, Ben Higgins and Lauren Bushnell, to see if they wanted to join the prom party. Next, he reached out to another friend, Broncos kicker Brandon McManus, to see if he wanted to come with the crew. He not only agreed to come, but he also brought punter Riley Dixon along with him and rented a Bentley SUV so that Avery could arrive at prom in style.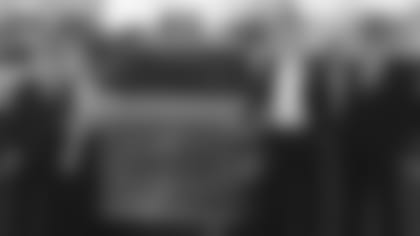 "When I heard [Avery's] story, I thought I could touch this kid's life." McManus said. "We made him feel like a rock star. … We just wanted to make the experience once in a lifetime for him."
The Beckers were beside themselves.
"Here's a kid who is lonely. He's lived in a hospital. His friends are doctors and nurses, that's it," Becker said. "Here he has these people that are so cool taking notice of him. It was just incredible."
---
The group showed up at 6:15 p.m. for pictures before taking the Bentley for a spin on the way to Olive Garden where they had their pre-prom dinner. The Beckers figured the group would join Avery for about an hour or so, but they stayed the whole night, even through after prom.
"We had a blast," Dixon said. "It was good to see Avery, too. I think he said, 'Thank you,' at least 40 times to us throughout the night. You could just tell that he was having fun, so that brought joy into our lives as well."
McManus added: "For me, being able to see the smiles on his face and how excited he was the whole time was really a treat."
That night, Avery went from someone partially defined by his time spent in the hospital to the life of the party. For the evening, he and his prom group were the ones his classmates could not stop talking about.
"Having these people come into his life and make him feel so special and so loved … makes a huge difference," Becker said.
"They gave him hope, they let him see that there are still good things that he can do. There's still a future for Avery."
As Avery returned to his reality at Children's Hospital to receive his latest round of transfusions, he had a beaming smile. In his hospital room, he showed his old friends, the doctors and nurses, all the photos of his new friends -- and of the night he'll never forget.